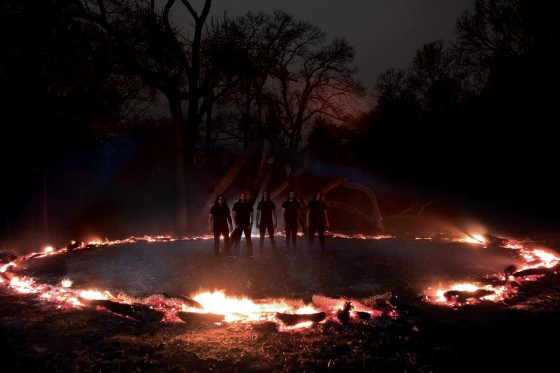 Dallas death metal battalion CLERIC will crush the weak with their disparaging debut LP, Gratum Inferno, through their local cohorts at independent waxmongers Tofu Carnage Records this fall, the label now confirming the street date for the record as September 26th.
Formed by members of Kill the Client, Baring Teeth, and Tyrannosorceress, CLERIC fuses their old-school death metal aggressive tendencies here into a relentless attack, which their Gratum Inferno LP attempts to capture in full-force. Recorded by Garry Brents (Kill The Client, Phobia, Noisear) and mastered by Brad Boatright at Audiosiege (From Ashes Rise, Nails, Sleep), Gratum Inferno boasts nearly a half-hour of grating, Stockholm-bred but Americanized death through seven hymns of debauchery, bizarre, haunting and horror-soundtrack elements permeating from deep within its hellish core. The platter is being pressed on 200-gram, translucent yellow wax with blood red and milky clear splatter and features heavyweight spot-varnish printed jackets, gold foil-stamped inner-sleeve graphics, was mastered at 45rpm for superior sound quality, and bears insane cover art was masterminded by Jason Barnett (Noothgrush, etc.).
Unload Gratum Inferno in its entirety at Cvlt Nation RIGHT HERE, and place preorders for the wax HERE.
Stay tuned for the band's hellfire-strewn first video to be released shortly. Additionally, CLERIC has locked down new live actions across Texas over the coming months with more being confirmed all the time. Loooking forward towards the turn of the year they'll infiltrate audiences beyond the region with more extensive tour plans… stay tuned.
CLERIC Live:
8/24/2013 WAAS Gallery – Dallas, TX w/ True Widow, Venomous Maximus,
9/12/2013 Crown and Harp – Dallas, TX w/ Dead To A Dying World, Unconscious Collective
11/22-23/2013 No Thanks Fest XI – Emory, TX w/ Scaphe, Recreant, Dead To A Dying World [info]
https://www.facebook.com/666cleric666
http://clericdeath.bandcamp.com
http://www.tofucarnage.com
https://www.facebook.com/TofuCarnage
http://twitter.com/tofucarnage