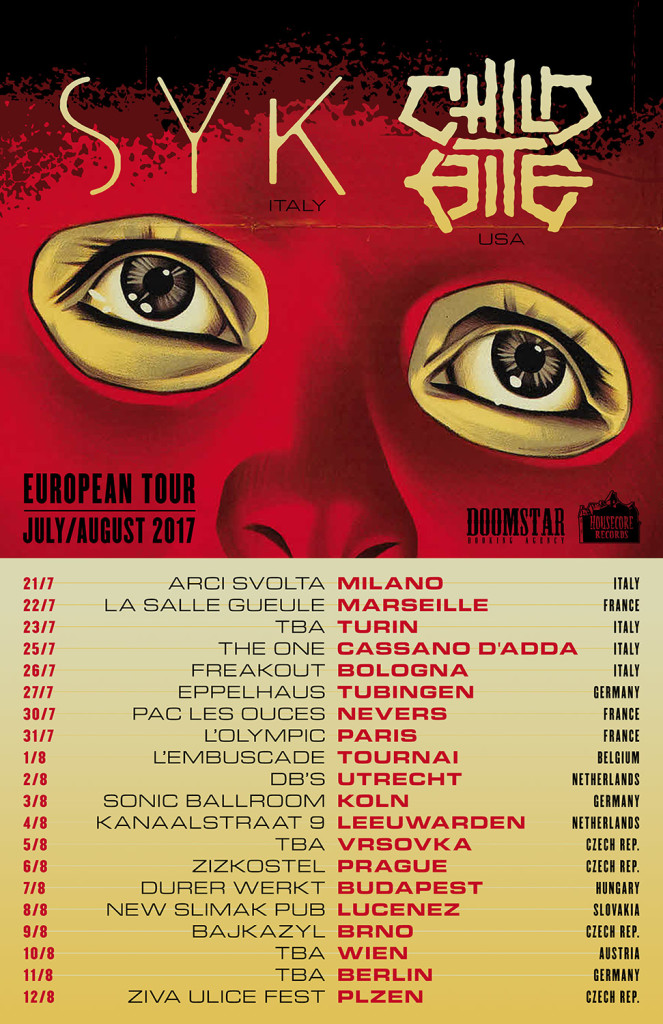 Housecore Records recording artists CHILD BITE and SYK will join forces later this week for a European live takeover. The journey will commence on July 21st in Milano, Italy, and rampage its way through nineteen cities, concluding August 12th in Plzen, Czech Republic.
The trek will mark the final performances for both CHILD BITE guitarist Brandon Sczomak and drummer Jeff Kraus who joined the band in 2010 and 2014 respectively. CHILD BITE's remaining tours for the year will feature guitarist Jeremy Waun from Detroit-based experimental punk metallers Reverend and previous CHILD BITE drummer Ben Moore who played with the band from 2011 to 2013.
Comments CHILD BITE frontman Shawn Knight, "It has been four years since our first European tour, so we are plenty ready to get back over there and freak some people out. [Housecore Records head, Philip] Anselmo introduced us to the music of SYK a year or two back and we were immediately intrigued. Both bands are kind of misfits so I believe we'll get along just fine! Like a monstrous, eight-headed peanut butter and jelly sandwich wreaking havoc across the land…"
CHILD BITE + SYK:
7/21/2017 Arci Svolta – Milano, IT
7/22/2017 La Salle Gueule – Marseille, FR [tickets]
7/23/2017 TBA – Turin, IT
7/25/2017 The One – Cassano D'Adda, IT [tickets]
7/26/2017 Freakout – Bologna, IT [tickets]
7/27/2017 Eppelhaus – Tubingen, DE [tickets]
7/30/2017 Pac Les Ouces – Nevers, FR [tickets]
7/31/2017 L'Olympic – Paris, FR [tickets]
8/02/2017 DB's – Utrecht, NL [tickets]
8/03/2017 Sonic Ballroom – Koln, DE [tickets]
8/04/2017 Kanaalstraat 9 – Leeuwarden, NL
8/05/2017 TBA – Vrsovka, CZ
8/06/2017 Zizkostel – Prague, CZ [tickets]
8/07/2017 Durer Werkt – Budapest, HU [tickets]
8/08/2017 New Slimak Pub – Lucenez, SK
8/09/2017 Bajkazyl – Brno, CZ
8/10/2017 TBA – Wien, AU
8/11/2017 TBA – Berlin, DE
8/12/2017 Ziva Ulice Fest – Plzen, CZ
Detroit noise rock unit CHILD BITE released their Negative Noise full-length last year via Housecore Records. The wild, forty-seven-minute assault was produced by Philip H. Anselmo (Down, Pantera, Scour, Philip H. Anselmo & The Illegals, Arson Anthem etc.), mastered by Scott Hull (Pig Destroyer), and is where the Venn diagram of Black Flag, Voivod, and The Jesus Lizard truly overlaps. Lauded Punk News, "This is for the open-minded punk, headbanger, or weirdo. If you like your music a little on the ugly side, you owe it to yourself to check them out." No Clean Singing concurred, "Negative Noise possesses a brilliance and individuality all its own and is a refreshing breath of fetid air in an era saturated with a d-beat-only approach to punk and hardcore." New Noise Magazine hailed the band's, "adventurous slice of loud rock…," furthering, "They have the aggressive force of hardcore, but it's filtered through grimy noise rock." Brave Words wrote, "References within the sphere of metal are hard to come by, but imagine if the first Mr. Bungle album wasn't annoying circus music, and then remember that this band once did a 5″ record of Anal Cunt covers with Phil Anselmo on vocals, and you're getting there." Added Svbterranean, "Those looking for something new, heavy and odd will have to look no further. Those looking for the perfect soundtrack to a sci-fi slasher B-movie will also have to look no further."
Italian avant extreme metal collective SYK unleashed their maniacal I-Optikon full-length via Housecore earlier this year. Led by the nihilistic vocal assault of Dalila Kayros, SYK scorches ears and torches the soul with their grim, complex, and mercilessly weighty brand of noise-laden, apocalyptic-sounding savagery. SYK was forged by Stefano Ferrian and Federico De Bernardi Di Valserra, both former members of the well-known long-running avant-grind monstrosity Psychofagist. I-Optikon was produced by Anselmo and Stephen Berrigan (Down, Philip H. Anselmo & The Illegals, Eyehategod, Haarp, Classhole, etc.). Worshippers of artists like Meshuggah, Crisis, Diamanda Galas, Starkweather, and general sonic annihilation, listen up.
In a 4.5/5 review New Noise Magazine commends, "an absolutely bizarre and surreal heavy metal experience." Metal Trenches accurately calls I-Optikon, "an artsy, unconventional fusion of Meshuggah guitar and drumwork with off-kilter clean vocals from one Dalila Kayros. She bares a similar nihilistic approach to melody as Björk Guðmundsdóttir. Hers is a bit more aggressive, but I can't think of a single more appropriate comparison. Compositions are quite technical, and the results are unlike anything else I have heard." Echoing Magazine hails, "female vocals that carry a yell like Exene Cervenka, if done with the same power as Henry Rollins." Skulls 'N' Bones likens the record to a, "trip through the empty, shattered halls of someone's emotional insane asylum. It's kind of like a soundtrack to a really good Dario Argento film; it's music to swallow glass by." Mxdwn writes, "Whether or not this occasionally headache-inducing subgenre of metal finds itself at the top of your most played list, SYK's command of it can't be denied. I-Optikon holds a certain level of precise production that positions it in the higher ranks of experimental, mathematic metal." Added No Clean Singing of Kayros' vocals in their premiere of "Fong," "It's strident and powerful, proclaiming the words with piercing, wrenching force, and at a measured pace that contrasts both with the feverish fire that drives the expression and with the furious pulse and warped arpeggios of the music behind her, which cranks the tension like a poison you know is surging through your blood straight to the brain."
To purchase CHILD BITE's Negative Noise and SYK's I-Optikon, visit the Housecore Store at THIS LOCATION. Stream the records at the Housecore Bandcamp page HERE.
http://www.childbite.com
http://www.facebook.com/childbite
http://www.facebook.com/syk.official
http://www.thehousecorerecords.com
http://www.thehousecorestore.com
http://www.facebook.com/housecorerecords