Detroit punk metal noise rock hellions, CHILD BITE, are pleased to confirm a string of live invasions later this month. Kicking off April 19th in Dayton, Ohio, the band will wallop Louisville, Nashville, Chattanooga, Athens, Little Rock and Hattiesburgh before making their way to Philip H. Anselmo's famed Nodferatu's Lair to track the follow-up to last year's Strange Waste EP. On May 11th, the band will take to the streets again to crush New Orleans, Jacksonville, Charlotte, Richmond, Canton and Cincinnati with future live abrasions in their scheduling phases.
CHILD BITE:
4/19/2015 Canal Public House – Dayton, OH
4/20/2015 Highland Taproom – Louisville, KY
4/21/2015 The End – Nashville, TN
4/22/2015 JJ's Bohemia – Chattanooga, TN
4/23/2015 Caledonia Lounge – Athens, GA
4/24/2015 The Rev Room – Little Rock, AR
4/25/2015 The Tavern – Hattiesburgh, MS
5/11/2015 Circle Bar – New Orleans, LA
5/12/2015 Burro Bar – Jacksonville, FL
5/13/2015 Tremont Music Hall – Charlotte, NC
5/14/2015 Strange Matter – Richmond, VA
5/15/2015 Buzzbin Art & Music – Canton, OH
5/16/2015 The Comet – Cincinnati, OH
In related CHILD BITE missives, the band will appear on an upcoming, limited edition Celtic Frost tribute record. Set for release via Corpse Flower Records later this Spring as a supplement to the Morbid Tales! An Illustrated Tribute To Celtic Frost, a mega 155-page comic with illustrations and illustrated anecdotes from a varied bunch of metal musicians/authors, edited by renowned illustrator Mark Rudolph, CHILD BITE opens the collection with their rendition of "The Usurper" with Anselmo on lead vocals. "If you saw us at our release show or on tour last Fall," the band notes, "you may have heard us play it with [vocalist] Shawn [Knight] doing his best Anselmo-meets-Tom G impression." The comp will also include Acid Witch, Municipal Waste, members of Neurosis and Repulsion and more!
CHILD BITE's Strange Waste EP was release via Housecore Records last Fall. . Ugly, anxious and perilously habit-forming, the record continues to shock and awe ears of the willing with its deliciously bastardized hybrid of the Melvins, Dead Kennedys, Big Black and Faith No More. Check out Strange Waste, still streaming in full at Revolver Magazine RIGHT HERE. And don't forget to peep the band's video for "Ancestral Ooze." Written and directed by ex-Dillinger Escape Plan guitarist Jeff Tuttle and featuring the Melvins' Buzz Osborne, the clip is a tribute to the 1987 underground horror flick Street Trash and is still playing at Decibel at THIS LOCATION.
"CHILD BITE's music smashes into you, as fast as a freight train and just as heavy. The guitars are a blistering blur of nimble and gnarly tones, with the rhythm section's raucous grooves propelling a raspy, yowling vocalist's emphatically motor-mouthed lyrics…" — Detroit Free Press
"Knight's voice is what I image one would get by throwing the vocals of Mike Patton, Jello Biafra, Joe McTighe, David Yow and Dave Brockie into a furnace to mix together and pour out as a flowing molten blend. Strange Waste is one of those rare albums that is ridiculously good from start to finish." – The Examiner
"The soundtrack to the greatest psychotic slasher film that never was… a mangled mash-up of noise rock and punk that comes across as something deranged yet catchy." – American Aftermath
"CHILD BITE makes the type of noise that could appeal to fans of just about everything… you like your music loud and slightly unhinged then this will be right up your street." – No Clean Singing
"The riffs on the record are catchier than the clap, and the rhythm section is a constant pummeling." — Bearded Gentlemen Music
Strange Waste is available on CD, double vinyl seven-inch and digitally via Housecore Records at THIS LOCATION.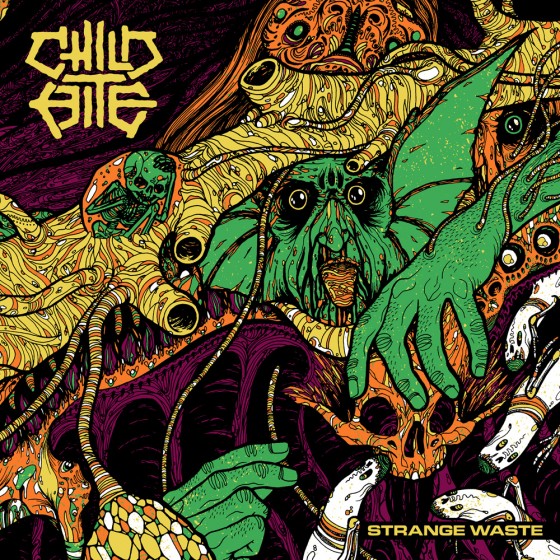 http://www.childbite.com
http://www.childbite.bandcamp.com/
http://www.facebook.com/childbite
http://www.thehousecorerecords.com