As San Diego-based CAVE BASTARD prepares to release their grinding debut LP The Bleak Shall Devour The Earth through Accident Prone Records in March, the track "Massacre Reaction" has been unveiled at No Clean Singing, and preorders for the album have been posted.
Unloading a brutalizing style of apocalyptic/dystopian metal, CAVE BASTARD is comprised of ex/current members of Cattle Decapitation, Gutrot, Ritual Torture, Bridge Jumper, Temblad, and others. The Bleak Shall Devour The Earth was captured in October 2016 at Audio Design Studios in San Diego, recorded and mixed by legendary engine-ear, Billy Anderson (Neurosis, Brutal Truth, Cattle Decapitation) with assistant engineer Jordan Andreen, mastered at Trakworx by Justin Weis, and completed with artwork by Varises Otak.
Issues CAVE BASTARD on the new single, "The inspiration behind 'Massacre Reaction' is what has been an ongoing occurrence over the last seventy years carried out by the United States government: bombing campaigns abroad. The idea of a chain reaction of massacres; each one complimenting the last in a never-ending cycle, and the effects of such mass carnage of those whom suffer from it. The insane idea that a small group of people can decide who dies in massive quantities in other parts of the world seemingly at the same time in hopes of curing a problem, hence the line that appears in the song, 'Decide who dies; consequence of ignorance; Massacre Reaction: Bombs Away!' It's understood that's been a part of modern warfare for as long as it's existed, but even more incredible and appalling that the US has bombed at least seven countries we are not at war with over the last ten years with no end in sight."
No Clean Singing declares with their debut of the new song, "It's an intense subject matter for this song, and the music matches that intensity. The drumming itself sounds like a sequence of high-speed explosions; the riffing resembles heavy-caliber automatic weaponry; the chords blare and pulse like an air raid warning; the blood-red vocal ferocity is staggering. And that's all just part of what happens in this track."
Stream CAVE BASTARD's devastating "Massacre Reaction" at No Clean Singing RIGHT HERE.
The Bleak Shall Devour The Earth will see release on LP and digital formats on March 23rd via Accident Prone, find preorders HERE.
CAVE BASTARD has also booked several new shows across Southern California in March and April, including an album release show for The Bleak Shall Devour The Earth in their hometown on April 19th, with more widespread tour actions to be announced.
CAVE BASTARD Live:
3/24/2018 Unfair Oaks – Pasadena, CA w/ Ruin, Short Temper, Barrage, Lost Lands
3/31/2018 The Blvd – Los Angeles, CA w/ Vale, Arachnigod, Anshelm
4/19/2018 Soda Bar – San Diego, CA *Release Show w/ Nukem, Bad Acid Trip, Beekeeper
Three-and-a-half years in the making, the debut full-length dark vision of CAVE BASTARD is ready to be unleashed. The album combines the band's bleak imagery and outlook with devastatingly brutal riffs and earthmoving rhythms which set the tone for a voyage into the apocalypse. Featuring eight new songs bearing titles such as "Massacre Reaction," "Trapped In A World Of Formlessness," and "Purity Through Oblivion," CAVE BASTARD draws you in to their void of chaos. CAVE BASTARD is the manifestation of atrocities, inhumanities, and corruption, and The Bleak Shall Devour The Earth is the first chapter in their tale of torment.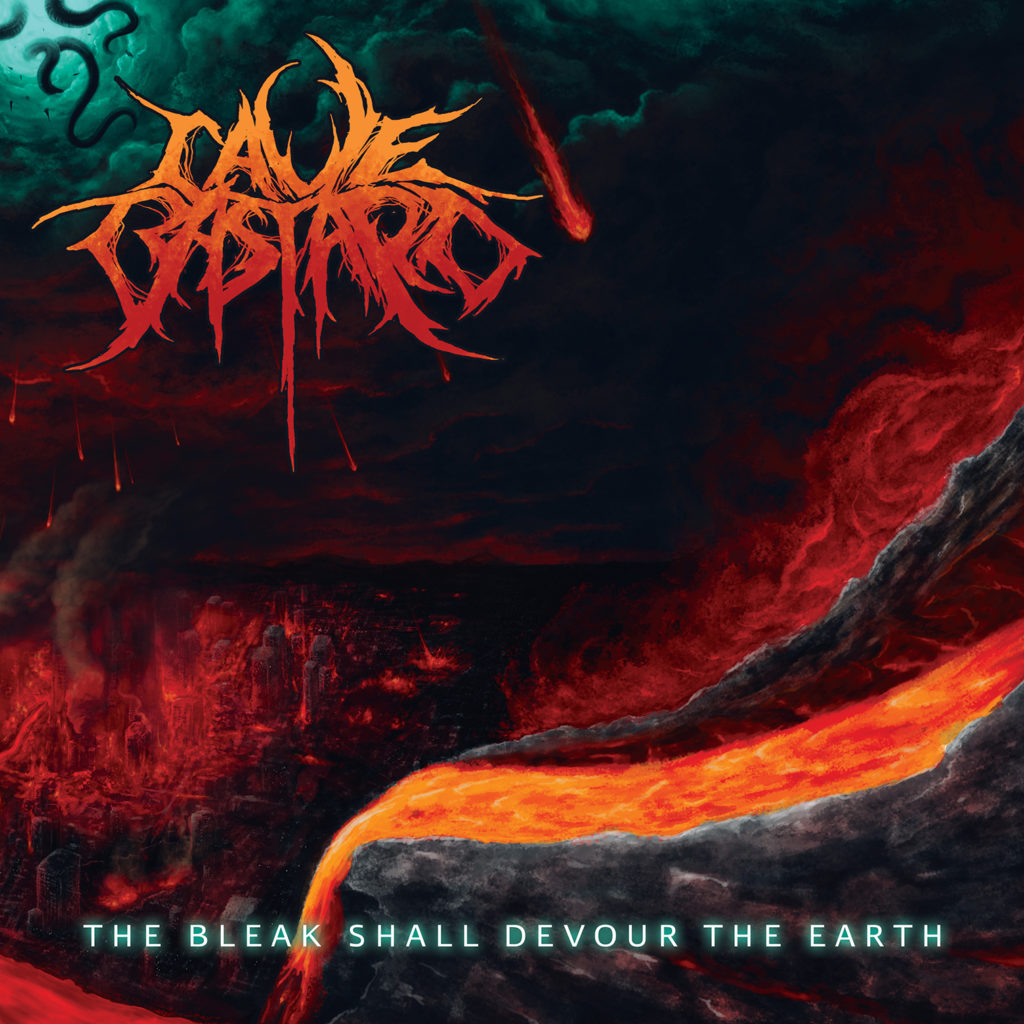 https://www.facebook.com/cavebastard
https://cavebastard.bandcamp.com
https://www.accidentprone.com
https://accidentpronerecords.bandcamp.com
https://www.facebook.com/accidentpronerecords