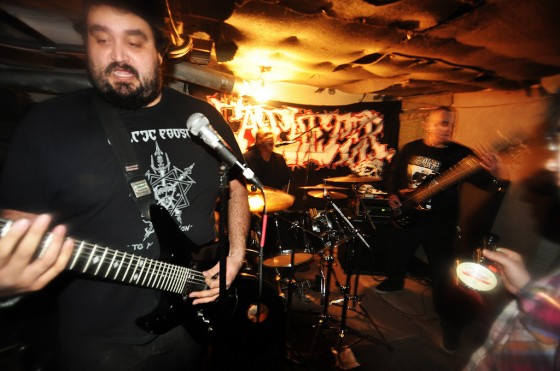 After years of angst-ridden anticipation from a ravenous fanbase, Denver's grindcore gargantuans CATHETER are preparing to unleash their first full-length album since 2005, celebrating 15 years of perpetuating their brutal 303-style grind.
The follow-up to their 2005-released sophomore album, Dimension 303, amidst an incredible arsenal of split releases, EPs and demos over the years, CATHETER's new opus is so obliteratingly heavy that upon first listen you'll quickly forgive them for the delay since the last album, and immediately tear your own head off in utter joy. As always appropriately entitled, Southwest Doom Violence surges with CATHETER's pissed-off style, wrangling 17 cataclysmic tunes in only twice as many minutes, an immediate adrenaline-booster for fans of classic, ripping grindcore in the tradition of Repulsion, Terrorizer, Phobia, early Napalm Death, with crust and doom metal infiltrating the mix.
Southwest Doom Violence is confirmed for North American release this May 1st, once again via Selfmadegod Records, who released CATHETER's Preamble To Oblivion and Dimension 303 albums. Check out the cover art by Adam Azeris/Milk and Gasoline here: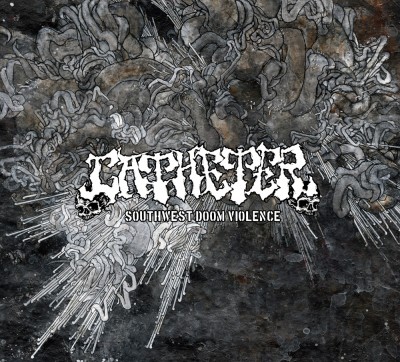 Southwest Doom Violence Track Listing:
1. Intro
2. Encapsulation
3. Can't Dream
4. Prosthetic Mind
5. A Thousand Lies
6. Hypercaine
7. Turning Point
8. Ingestion
9. Conspiracy Control
10. Doom to Grind
11. Can't Change Existence
12. No Harvest
13. Death Merchant
14. Strike
15. Bullshit Business
16. Vile
17. In This Moment
CATHETER is currently embarked on tour take their horrifying grind attack to the European fans in support of the new album [view tour info here], with additional stateside live tour actions to be announced in the months ahead.
http://www.facebook.com/pages/Catheter/142046382508837
http://www.myspace.com/catheter
http://www.selfmadegod.com
http://www.facebook.com/Selfmadegod