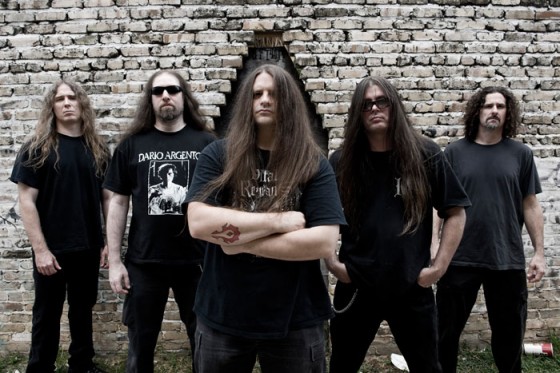 Today, Revolvermag.com hosts the exclusive premiere of "Scourge of Iron," the third track off CANNIBAL CORPSE's forthcoming slab of brutality, Torture, slated for North American release through Metal Blade Records on March 13, 2012.
Comments bassist Alex Webster of the new tune: "'Scourge of Iron' helps to show the song writing diversity on Torture. [First album single] 'Demented Aggression' is blazing fast and frantic, while 'Scourge…' is a down tempo, pounding song. They're both death metal, but at opposite ends of the speed spectrum. Expect to hear this kind of variety throughout Torture. We've utilized many different tempos, rhythms, and feels in these songs with the goal of making an album that is varied and dynamic but also very brutal. On March 13th you'll get to decide whether or not we succeeded."
Listen to "Scourge Of Iron" at THIS LOCATION.
Listed among Decibel Magazine's "Top 25 Most Anticipated Extreme Records Of 2012," the aptly titled Torture was produced by Hate Eternal's Erik Rutan at his own Mana Recording Studio in St. Petersburg, Florida as well as Sonic Ranch in Tornillo, Texas, and features cover art by longtime CANNIBAL CORPSE artist, Vincent Locke. Visit the band's OFFICIAL LANDING PAGE for pre-order info as well as studio footage and if you missed it, for single "Demented Aggression."

"Torture is right up there with CANNIBAL's best…This is pure death metal mastery from one of the best bands the genre has ever produced…any death metal fanatic will be left sated and satisfied." — 5/6 Zero Tolerance Magazine
"Magnificent, in a thoroughly nasty way" — Joel McIver, Record Collector
http://www.metalblade.com/cannibalcorpse
https://www.facebook.com/cannibalcorpse
http://www.metalblade.com