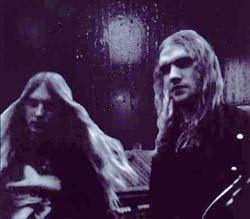 Candlelight Records today confirms the worldwide signing of OCTOBER TIDE. The band featuring guitarist Fredrik Norrman, vocalist Tobias Netzell, drummer Robin Bergh, and session bassist Jonas Kjellgren (Scar Symmetry, Carnal Forge) is currently finishing work on their still untitled new album. Expected for release early fall, it will be the first new recording from the band in over ten years. It follows recent reissue of the band's acclaimed debut Rain Without End.
Formed in 1995 by then Katatonia guitarist Norrman and Katatonia/Bloodbath vocalist Jonas Renkse, OCTOBER TIDE quickly made a mark with two albums recorded and released during the years 1997 and 1999. Much of the band's music was written during a short break up of Katatonia which later proved only temporary as the band would reform and continues today; their latest album Night Of The New Day features work by Norrman. OCTOBER TIDE would not perform live during this short period of activity and few interviews with the members were granted despite praise from both media and fans. The band, until reforming in late 2009, would maintain a cult status throughout the doom/metal community.
Decibel Magazine calls Rain Without End "a peculiar album. It reminds of past and future Katatonia albums yet, it's entirely unique in vibe and riff assembly. OCTOBER TIDE's slow to mid-paced doom/death stuns… Renkse and Norrman using counterpoint, build/release tension and melody to peerless effect." EBlogger Lonely Ghost Transmissions on its 2008 review of the album's European re-release says, "Rain Without End is without a doubt the greatest doom-death metal album ever."
Candlelight Records is distributed exclusively in the United States by Caroline Distribution, EMI Music for Canada, and Plastichead Music for the rest of the world.
http://www.candlelightrecordsusa.com
http://www.myspace.com/octobertideband