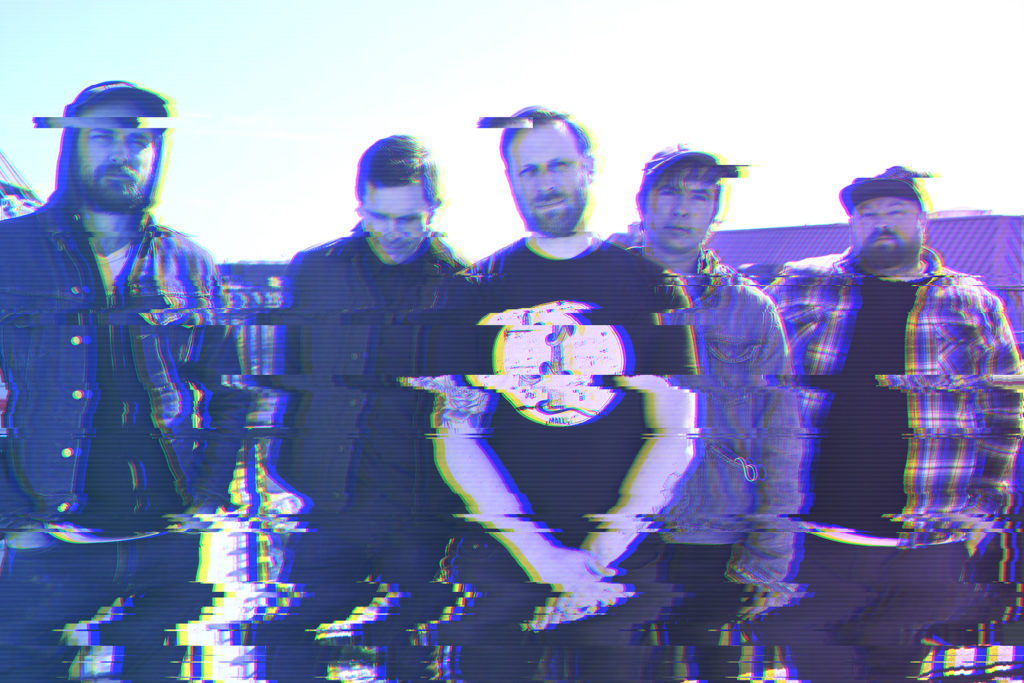 photo by William Dowling
BrooklynVegan is hosting an exclusive premiere of "Light Heads," a mesmerizing new track from Baltimore, Maryland/Washington, DC-based alt/post-rock quintet BURIAL WAVES.
BURIAL WAVES formed in 2019, the members having been friends from an array of DC-area bands. They made their live debut with several shows in early 2020 just as the persisting global pandemic took its grip on the planet and have spent the past year focused on the creation of several epic singles, official videos, and more, which now begin to permeate the public domain with the release of the "Light Heads" single.
BURIAL WAVES' Ross Hurt delves, "'Light Heads' was one of the first songs that fully came together as a band. For a long time, we just had an abundance of parts and no cohesion. 'Light Heads' was the first result of a natural and organic writing approach. No jamming, no recycling old parts; we just started with, 'how does this song move?,' 'what kind of textures do we want to highlight?,' and so on. The result was shockingly, exactly in line with our original concept. There's a lot going on, not a ton of repetition, but it seems to flow without falling into chaos. Thematically, Kyle was always trying to write the tone or feeling of a song, and it becomes obvious if he's trying to work something in that doesn't want to be there. Collectively, we all sort of watch in fascination as folks wrestle with their indoctrinations; so, it seems rather fitting that these lyrics sit in a composition that is jarring, occasionally disjointed, and eventually reaching a cathartic release."
With the exclusive premiere of "Light Heads," BrooklynVegan writes, "Jarring, occasionally disjointed, and cathartic are all good words to describe this song, which kind of sounds like a cross between Caspian's post-rock beauty and The Jesus Lizard's thunderous post-hardcore, and Kyle's soaring voice suits it perfectly."
"Light Heads" was engineered by Dennis Manuel, mixed by Paul Malinowski, and mastered by Mike Nolte at Eureka Mastering.
Stream BURIAL WAVES's "Light Heads," playing exclusively at BrooklynVegan, RIGHT HERE.
Dark Operative will issue BURIAL WAVES' "Light Heads" across all digital platforms tomorrow, Tuesday, April 13th. Find links to all streaming/purchase points HERE and at Bandcamp HERE.
Over the next few months, Dark Operative will issue several other new singles, official videos, and more from BURIAL WAVES.
Just as the city's halcyon days of the '80s punk scene saw a variety of projects sprout up from the same pool of musicians, the Washington, DC area has a current contingent of permanent residents who continue that lineage of interconnectedness in their mission to create exhilarating, introspective, and forward-thinking rock. In that sense, BURIAL WAVES is a quintessential DC/Baltimore band. With its members coming together from the likes of Black Clouds, Pianos Become The Teeth, Caverns, and The Effects, the band is their own sonic entity. You can certainly hear not only their individual pedigrees, but the history of their hometown in their collective output. They are an amalgam of amp-worshipping heaviness and synesthesia-inducing space rock with a slight edge of cathartic recklessness.
Their sound is so rich and multi-dimensional that the experience of soaking in their songs on headphones is nearly as rewarding as feeling the thump of a kick drum on massive PA speakers. But much as the previous generation rethought their strategies in the wake of recurring violence at shows, so has BURIAL WAVES reimagined the way they present their music in an age where the stage isn't an option. Teaming up with the similarly visionary label Dark Operative, the band is forgoing the standard album cycle and instead releasing individual songs in a variety of formats. Music that can make you feel like you're back in that dark, tightly packed room with the speakers pushing the air and the energy into the crowd.
BURIAL WAVES:
Kyle Durfey – vocals
Ross Hurt – guitars
Matthew Dowling – guitars
Kevin Hilliard – bass
Jimmy Rhodes – drums
http://www.burialwaves.com
https://www.facebook.com/Burial-Waves-104541117635074/
https://twitter.com/burialwaves
https://burialwaves.bandcamp.com
https://www.instagram.com/burialwaves
http://darkops.site
http://darkoperative.bandcamp.com
https://www.instagram.com/darkoperative
https://twitter.com/dark0perative
https://www.facebook.com/darkoperativemusic