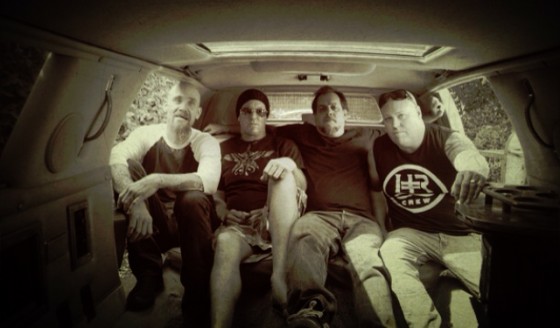 Following announcements over recent months proclaiming the release of Blood! — the newly-released but vintage recordings from iconic '80s Santa Cruz surf/skate/hardcore act, BL'AST! – the band now confirms their current live lineup which will take over stages in the coming weeks and onward for the first time in over a decade and a half!
Original BL'AST! alumni, vocalist Clifford Dinsmore (also of Dusted Angel, Gargantula) and guitarist Mike Neider have recruited Nick Oliveri (Kyuss, Queens of the Stone Age, Mondo Generator) on bass and drummer Hoss Wright (The Exies, Mondo Generator) to flesh out the brand new 2013 live lineup. Having bashed out a solid set behind closed doors in random sessions in Los Angeles and Santa Cruz over recent months, BL'AST! is ready to rage once again! The band has already been confirmed to supply support to the mighty Neurosis alongside YOB on two California shows at the end of the year; December 28th in Santa Ana, also with Helen Money, and December 29th in San Francisco, also joined by The Body. Another show is coming together in LA in mid-January with more shows to be announced shortly.
Stated Clifford Dinsmore on the band's newly re-ignited status: "The upcoming Neurosis shows really have us feeling the fire, and preparation has been intense! Nick and Hoss are really stepping up to the plate. This new lineup is vital in the continuation of BL'AST! and the addition of new blood makes it even more bombastic and heavy."
BL'AST! Live Actions:
12/28/2013 The Observatory Orange County – Santa Ana, CA w/ Neurosis, YOB, Helen Money [info]
12/29/2013 The Regency Ballroom – San Francisco, CA w/ Neurosis, YOB, The Body [info]
1/18/2014 The Vex – Los Angeles, CA
Now available worldwide via Southern Lord is Blood!, the vintage mid-80s BL'AST! recordings resurrected by Dave Grohl, mixed at his 606 Studios on the legendary Neve console as featured in the Grohl-produced documentary Sound City. Additionally, the recordings were from a rare lineup in the band's lineage, being the only recordings ever made while short-lived second guitarist William Duvall (Neon Christ, currently the vocalist for Alice In Chains) was a part of the BL'AST! family. Formed in 1982, BL'AST! released their debut album, The Power of Expression in 1985, scorching audiences everywhere with their unique and innovative, technical and boundary-free style of raging hardcore punk. This caught the attention of SST Records who released the band's second album, It's In My Blood, in 1987, as well as their third LP, Take The Manic Ride in 1989. BL'AST!'s wide-eyed, ambitious approach and intense perseverance became an influence for many bands to come.
Check out video interviews on the rebirth of the recordings at Noisey AT THIS LOCATION and stream Blood! alongside an in-depth feature including Dinsmore, Grohl, ex-guitarist/current Alice in Chains vocalist William Duvall and more RIGHT HERE.
https://www.facebook.com/pages/Blast/44354206391
http://southernlord.bandcamp.com
http://www.southernlord.com
https://www.facebook.com/SLadmin
http://twitter.com/twatterlord