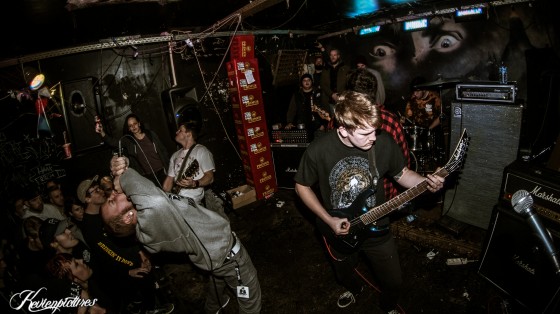 Now playing at Revolver Mag's website is a bludgeoning new track from Lewistown, Pennsylvania-based hardcore bandits, BENCHPRESS.
"The opening track from their upcoming split 7" release with Martyr's Tongue, the BENCHPRESS anthem, "Penance," lets you know right from the opening line that this band is out to stomp you into a mangled heap. Immediately channeling its energy into an immensely memorable tsunami-sized riff swell the song dishes out nearly three and a half minutes of grueling slow-motion beatdowns right up to its bitter ending. Following "Penance," the band also supplies the monstrous track "Pissed Away" to the A-side of the split release, with the platter's B-side supplying a pair of scathing songs from San Juan, Puerto Rico's Martyr's Tongue, with "Deconstructive Process" and "Unholy Communion."
Receive your "Penance" at Revolver's house of mosh now at THIS LOCATION.
Formed in 2011, BENCHPRESS has developed into the metal-tinged, hard-hitting powerhouse the band is nowadays, and with two EPs and a prior split under their belt, the quintet's future appears to be nothing but promising. BENCHPRESS' venomous surge of hardcore in the realm of veterans Cold As Life and Merauder and on par with modern acts Suburban Scum, Empire of Rats and Harm's Way, is displayed through two tracks on side A of this new split, recorded, produced and mastered by Carson Slovak at Atrium Audio in Lancaster, Pennsylvania.
Pennsylvania-based Get This Right Records is preparing to release this vicious joint showdown on May 6th, both digitally and vinyl. The first pressing of the 7″ will come in a run of 350 — 130 copies on black, 120 on bone white and 100 on clear with red/lavender/yellow/blue swirl/splatter — each copy joined by a digital download of the EP. There will also be a limited edition, numbered, screen-printed cover for all preorders placed. Check out the preorder options HERE.
Also available from Get This Right are releases from Full Of Hell, Goldust, Empire Of Rats and Black Mask, in addition to killer underdog heavy hitters from across the hardcore scene including Doubledealer, Lay Waste, Bottomfeeder and more. All of the label's prior releases are streaming and available via Bandcamp HERE.
https://www.facebook.com/BENCHPRESSAD
https://www.facebook.com/martyrstongue
https://www.facebook.com/gtrrecords
http://getthisrightrecords.bandcamp.com
www.coldcutsmerch.com/gtrr