[photo by Alexandre Souêtre]
Obsidion, the sprawling third album from Los Angeles' cinematic instrumental rock outfit, BARROWS, will see release next Friday, May 26th, and advancing its public unveiling, No Clean Singing has premiered the massive "Zenith."
Stream/share BARROWS' "Zenith" HERE.
BARROWS' brand of sci-fi instrumental rock conveys their thoughts and visions without the use of words. Upon hearing Obsidion, one can dissect from it fragments of references to progressive, space, kraut, and psych rock acts, citing anything from early King Crimson and Pink Floyd to John Carpenter and Goblin. Clocking in at nearly thirteen minutes in length, "Zenith" is the spacious, dynamic Obsidion album-closer, a dynamic and engrossing song that infuses and coalesces all the prime attributes of the band's organic and galactic sound.
No Clean Singing issues "Zenith," noting of Obsidion, "Listening is like being cast off the confines of mundane life and body-surfing the gravity lanes of deep space in a dreamlike exploratory trip."
Adds BARROWS, "The album depicts the experience of a man who is abducted from earth and brought to Obsidion, a place where dimension is indefinable and the boundaries of human consciousness cease to exist"
Stream BARROWS' "Zenith" only through No Clean Singing RIGHT HERE. Also hear previously-released "Entrada" at MetalSucks HERE, and see the Obsidion trailer HERE.
BARROWS' Obsidion was written and performed by Jim Leonard and Richy Epolito, recorded and mixed by Sean Foye, Jim Leonard, and Richy Epolito. The album was mastered by Eroc from the legendary Krautrock band Grobschnitt and features stark/abstract artwork and photography by Alexandre Souêtre. Emotional and evocative,
Obsidion will be released May 26th, digitally through the band, and on deluxe 2xLP via Tonzonen Records. Find preorders for the vinyl RIGHT HERE.
BARROWS will embark on a month-long US tour in support of Obsidion, beginning directly after the final show of the band's Los Angeles residency, which has been ongoing throughout the entire month of May. The final two residency shows take place this Monday, May 22nd, and Monday May 29th – the latter doubling as the record release show – after which they'll hit the highways across the country in a counter-clockwise path playing nearly every night through July 1st.
BARROWS Tour Dates:
5/22/2017 The Echo – Los Angeles, CA *Free Residency Show w/ Psychic Jiu–Jitsu, Mothdrops, Dream Phases
5/29/2017 The Echo – Los Angeles, CA *Album Release Show w/ Hex Horizontal, Starving Daughters, Clear
5/30/2017 The Casbah – San Diego, CA w/ Deep Sea Thunder Beast, Bleak Skies
5/31/2017 The Rebel Lounge – Phoenix, AZ w/ Moons Eat Stars, The Idiot Mars, The Living Receiver [info]
6/01/2017 Sister Bar – Albuquerque, NM w/ Votives, Distances, Chess At Breakfast [info]
6/02/2017 Hole In The Wall – Austin, TX w/ Gold Leather [info]
6/03/2017 The Parlor Tattoo – North Little Rock, AR w/ Mainland Divide, The Light in the Woods [info]
6/04/2017 The East Room – Nashville, TN w/ Tape Deck Mountain, International Friendly [info]
6/05/2017 Galaxy Hut – Arlington, VA w/ The Orchid [info ]
6/06/2017 The Fire – Philadelphia, PA w/ This City Called Earth, I See Demons in the Wood Grain [info]
6/07/2017 Golden Sounds Bar – Brooklyn, NY w/ Hannibal Montana, Zevious [info]
6/08/2017 Cafe Nine – New Haven, CT w/ Mid Atlantic Title, Western Estates [info]
6/09/2017 O'Brien's – Boston, MA w/ Sea, 28 Degrees Taurus, Voidgod [info]
6/10/2017 Monkey House – Winooski, VT w/ Dr. No, Gnomedad [info]
6/11/2017 Pauley's Hotel – Albany, NY w/ Yoma, Grimer [info]
6/12/2017 Dinosaur BBQ – Syracuse, NY w/ Formidable Duke, The Magnetic Pull [info]
6/14/2017 Cobra Lounge – Chicago, IL w/ Coyote Man [info]
6/15/2017 Triple Rock Social Club – Minneapolis, MN w/ Hardcore Crayons, Nomia, Goodnight Gorillas [info]
6/16/2017 O'Leaver's Pub – Omaha, NE w/ Low Long Signal, Towering Rogue [info]
6/17/2017 Electric Funeral Fest – Denver, CO [info]
6/19/2017 The Underground – Salt Lake City, UT w/ Yeti Warlord, Toxic Dose [info]
6/20/2017 The Olympic – Boise, ID w/ Desert Graves, Preakedness, Wall Of Ears [info]
6/21/2017 The Valley – Tacoma, WA w/ Fang Chia [info]
6/22/2017 Lytle Beach – Bainbridge Island, WA w/ Weeed [info]
6/23/2017 Victory Lounge – Seattle, WA w/ You May Die In The Desert, Chrome Lakes, Slumberbox [info]
6/24/2017 Turn, Turn, Turn Records – Portland, OR w/ U Sco, Stars' Blood [info]
6/25/2017 Old Nick's Pub – Eugene, OR w/ Cambrian Explosion, Paleons [info]
6/27/2017 Jub Jub's Thirst Parlour – Reno, NV w/ Weight Of The Tide [info]
6/28/2017 Starlite Lounge – Sacramento, CA w/ (Waning), Axiom [info]
6/29/2017 The Night Light – Oakland, CA w/ Wander, Dokoe, Voidtripper [info]
6/30/2017 Davenport Ditch – Santa Cruz, CA w/ Cosmic Reef Temple, Oort Cloud
7/01/2017 Hemlock Tavern – San Francisco, CA w/ Floral, Wander [info]
Formed in Syracuse by Jim Leonard and Richy Epolito, before the two relocated to Los Angeles, BARROWS recruited guitarist Ryo Higuchi and bassist Brock Haltiwanger to flesh out the live lineup. Having proven themselves to be a formidable force in the realm of exploratory rock through two prior albums – 2011's Imprecari Island, and 2014's Red Giant – BARROWS reaches further into the depths of consciousness on Obsidion. Boasting driving passages amidst massive expanses of powerful cosmic and atmospheric exploration, Obsidion bears an indescribable energy at its core, though the final product is implemented with a calculated coolness.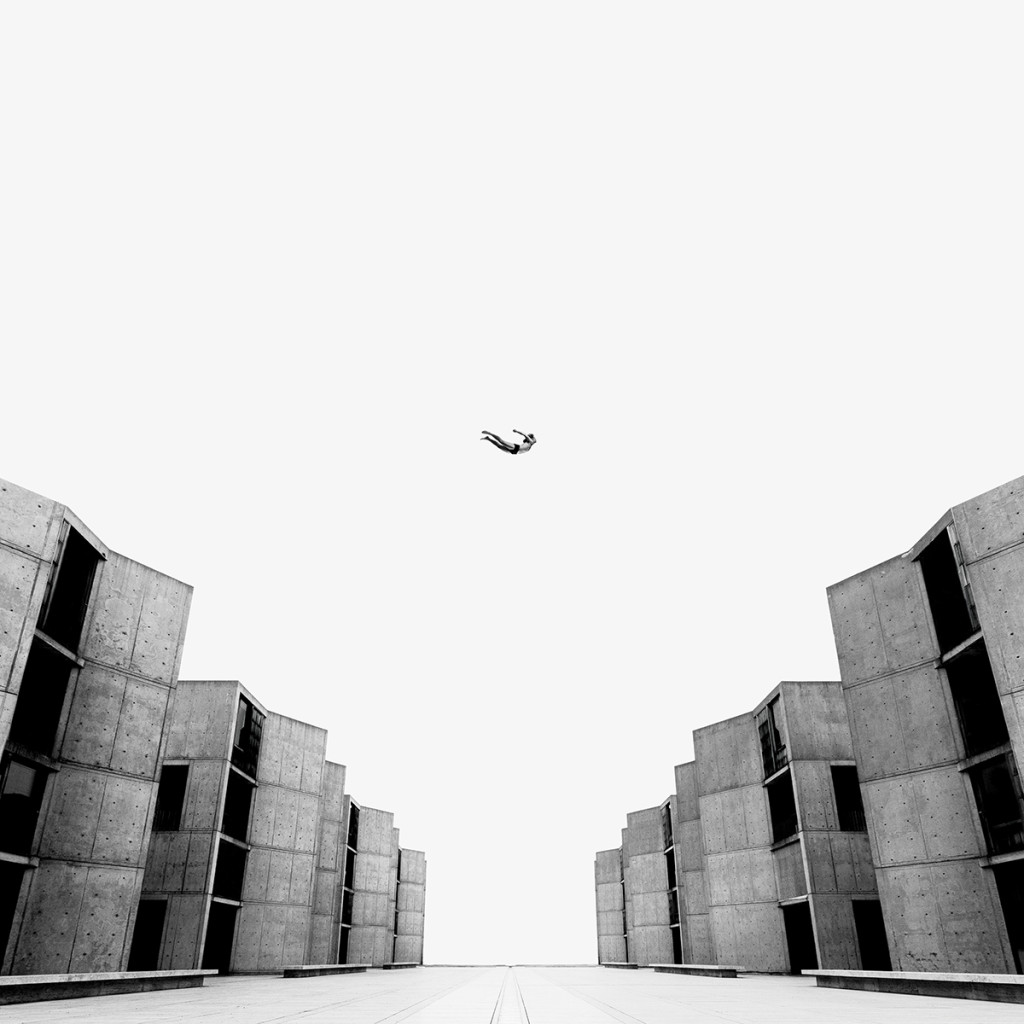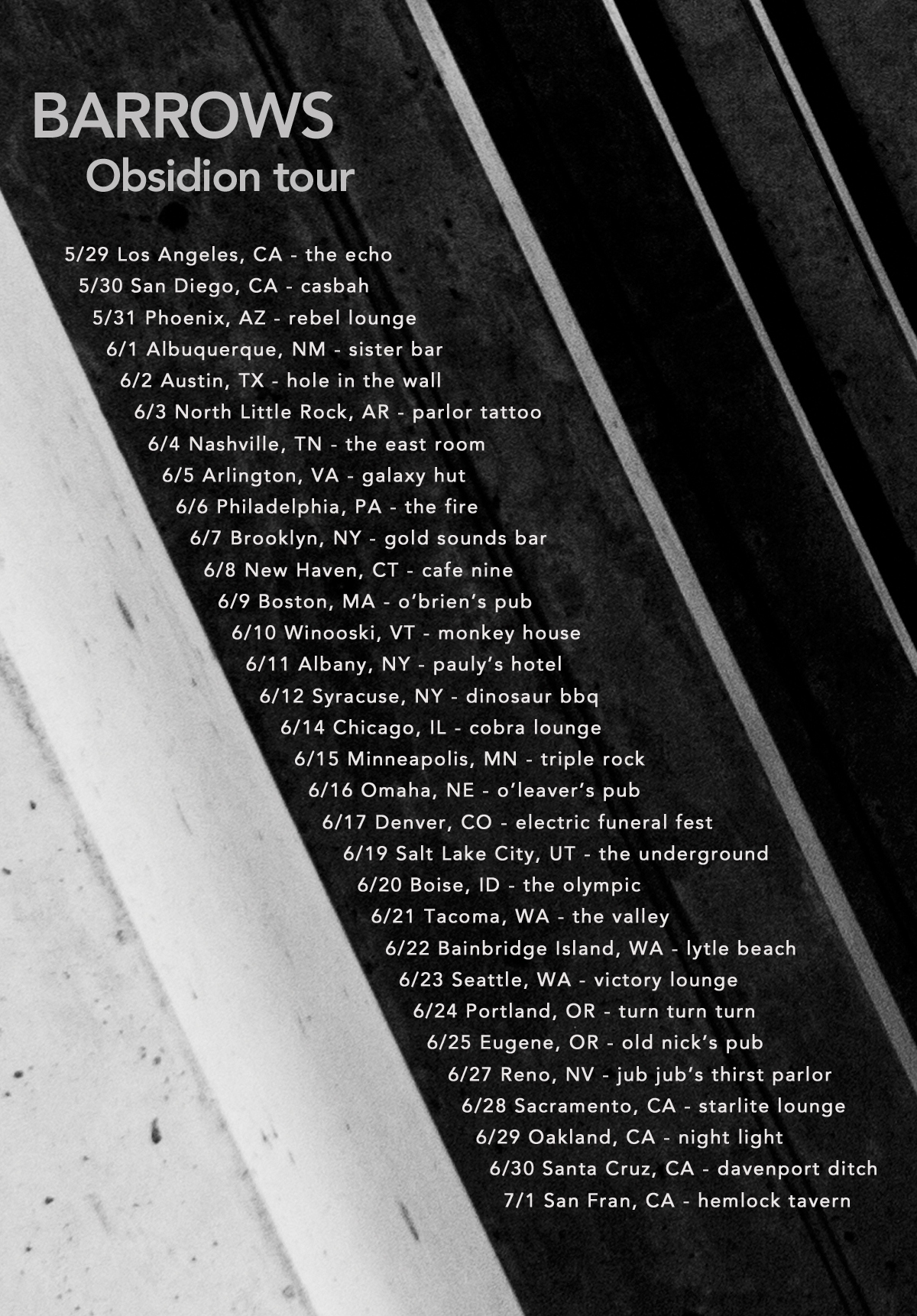 http://www.barrowstheband.com
https://barrowstheband.bandcamp.com
https://www.facebook.com/BarrowsTheBand
https://www.instagram.com/barrowstheband
https://www.tonzonen.de
https://www.facebook.com/Tonzonen
https://www.instagram.com/tonzonenrecords