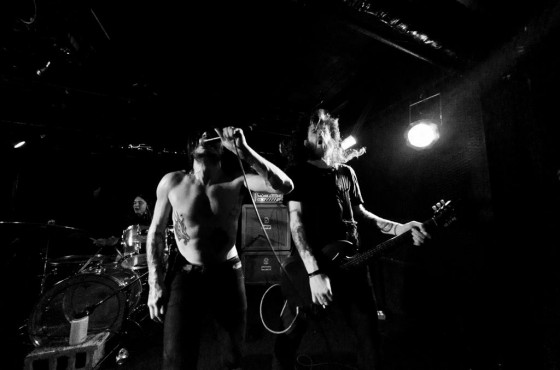 Vancouver, British Columbia-based BAPTISTS is preparing for the public onslaught of their debut LP Bushcraft, set for release in North America on February 19th via Southern Lord. Today the outfit hurls the album's combustible second track "Think Tank Breed" onto the unsuspecting public. The high-paced snare drum attack ripping the track wide open at the first second of this brutalizing anthem sets the listener up for what unhinged and pummeling riffage they're in store for on Bushcraft.
Have your face renovated by "Think Tank Breed" via BrooklynVegan now!
BAPTISTS advocate a creed of destruction through a blistering, discordant hybrid of punk-fueled hardcore. Recorded at the infamous Godcity studios with Kurt Ballou, the eleven anthems embodied on Bushcraft rage with nearly a half hour of lyrical angst and a seething vocal delivery propelled by white-knuckled snare-blasts, d-beat thunder, dissonant riff urgency and an overall relentless by-the-throat approach.
Tour actions in support of Bushcraft are being devised, including a trek to 2013's SXSW festivities and more. Stay tuned as more details emerge over the coming weeks.
Bushcraft Track Listing:
1. Betterment
2. Think Tank Breed
3. Bullets
4. In Droves
5. Still Melt
6. Mortar Head
7. Crutching Trails
8. Bushcraft
9. Soiled Roots
10. Russian Spirits
11. Abandon
http://xdrownyoursorrowsx.blogspot.ca
http://baptists.bandcamp.com
https://www.facebook.com/pages/BAPTISTS/111676572202547
http://www.southernlord.com
https://www.facebook.com/SLadmin
http://twitter.com/twatterlord