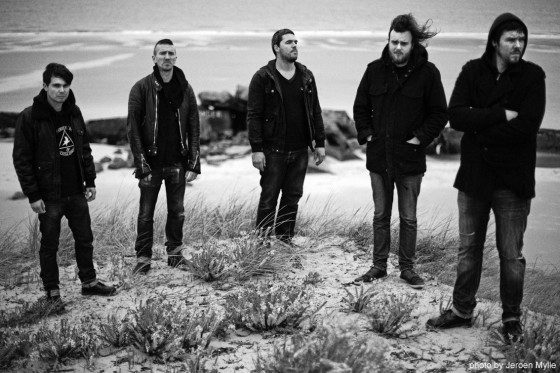 AMENRA's crushing new studio album Mass V, the band's debut for Neurot Recordings, is out now worldwide.
Over recent weeks, AMENRA has lured us with several tracks and multiple installments of mind-melting video footage from Mass V. These elements have shown what to expect from the album, but now fans can hear the whole record in its entirety which is streaming via Cvlt Nation AT THIS LOCATION.
The 2xLP version of Mass V is also available now. 250 of the 500 copies of this limited edition 180-gram silver vinyl version are available to fans via mailorder HERE; the other half of the pressing will be available on-location at the band's upcoming record release show on December 22nd. This vinyl edition of the album contains different artwork than the CD pressing, including additional sounds and alternative mixes by Billy Anderson and mastered by James Plotkin (Khanate, Scorn, working with SUNN O))), Earth, Isis) and comes with a special lyric/picture booklet.
AMENRA will be touring across Europe in the weeks ahead in support of this beast of a record, with a plethora of tour and festival dates already confirmed and with more in the works. Keep an eye on the band's Facebook page for an announcement next week about a very special and rare UK show.
AMENRA Live Rituals:
12/01/2012 Db's – Utrecht, NL @ Le Guess Who Festival w/ Oathbreaker [info]
12/22/2012 Ancienne Belgique – Brussels, Belgium *record release show w/ Oathbreaker, TBHR, Scott Kelly [info]
1/11/2013 Machinefabriek – Groningen, Netherlands @ Eurosonic Festival
2/10/2013 De Kreun – Kortrijk, Belgium w/ Eleanora [info]
2/16/2013 Perron – Ieper, Belgium @ Winterfest
2/22/2013 Burgerweeshuis – Deventer, Netherlands w/ TBHR
2/24/2013 Mod – Hasselt, Belgium w/ Hessian
4/19/2013 Patronaat Church – Tilburg, Netherlands @ Roadburn Festival [info]
European Tour 2013:
4/25/2013 Glazart – Paris, France w/ TBHR
4/26/2013 Epicerie Moderne – Lyon, France
4/27/2013 Boulevard Rock Club – Misano Adriatico (RN), Italy
4/28/2013 Traffic live club – Roma, Italy
4/29/2013 Lo Fi club – Milano, Italy
4/30/2013 Gaswerk – Winterthur, Switzerland
5/01/2013 Arena – Wenen, Austria
5/02/2013 Feierwerk – Munchen, Germany
5/03/2013 Conne Island – Leipzig, Germany w/ Syndrome
5/04/2013 Klub Firlej – Wroclaw, Poland @ Asymmetry Festival
5/05/2013 Bi Nuu – Berlin, Germany
5/26/2012 Stuk – Leuven, Belgium w/ Oathbreaker