Each week GIMME RADIO will publish its GIMME METAL chart listing the top 40 tracks played on the station for the week. Already the best metal discovery service online, the GIMME METAL chart is a powerful tool for listeners, labels, and artists for staying up to date on the best new metal released by established greats and up-and-coming underdogs, all handpicked by GIMME's knowledgeable DJ roster and editorial team.
This week's Top 10:
1. Irist – "Burning Sage"
2. The Black Dahlia Murder – "Child Of Night"
3. Vastum – "Reveries In Autophagia"
4. Death Angel – "Humanicide"
5. Abysmal Dawn – "The Path Of The Totalitarian"
6. Pigs Pigs Pigs Pigs Pigs Pigs Pigs – "Reducer"
7. Jute Gyte – "The Unformed Volcanic Earth"
8. Eye Flys – "Guillotine"
9. Testament – "Children Of The Next Level"
10. Jinjer – "Retrospection"
Click HERE for the full Top 40 list.
Next Week's Upcoming Shows On GIMME:
Irist: Premieres Friday March 27th 3:00pm EST/12:00pm PST – Irist, originally hatched in South America, eventually made their way to Atlanta and will release their Order Of The Mind full-length Friday March 27th via Nuclear Blast. While there are vestiges of the group's pan-South American heritage — from Andean music to heroes Sepultura  — throughout the offering, the band's collective influences come from all parts of the heavy spectrum. From The Melvins, Ratos de Porão, and Alice In Chains to The Dillinger Escape Plan, Soundgarden, and Converge, Irist fold in, twist fervently, and scorch their faves until they're decidedly protean and uniquely a product of the fivesome's songwriting prowess. At once a representative of contemporary anxiety and old-fashioned aggression, Irist's debut, is a must-hear. In conjunction with the release of the record is this full-band guest DJ special only on GIMME RADIO. Vocalist Rodrigo Carvalho joins in the initial airing chat.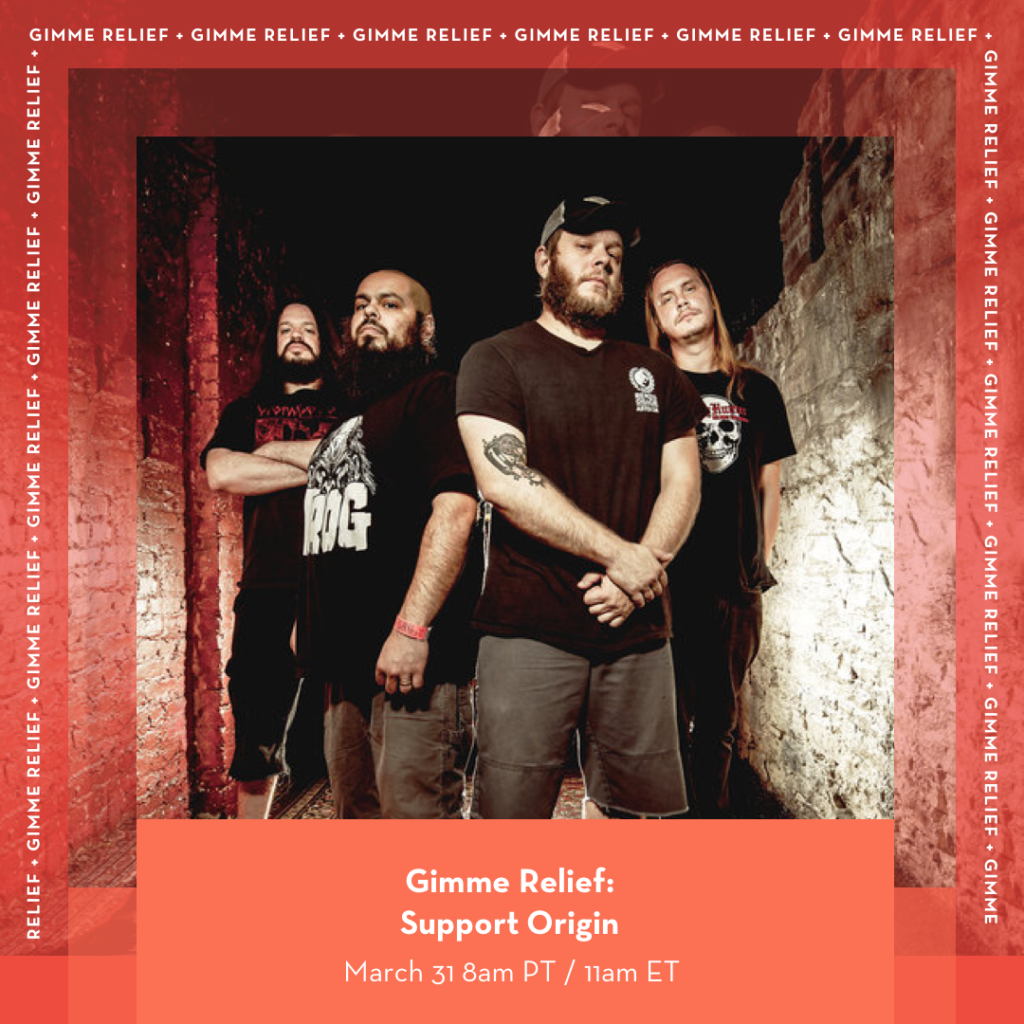 Origin: Premieres Tuesday March 31st 11:00am EST/8:00am PST – For two decades years, Origin has engaged a full-blown sensory assault of tight, taut, and technical death metal amplified by flashes of grindcore and groove. Their last LP, Unparalleled Universe on Nuclear Blast sees the quartet — guitarist/vocalist Paul Ryan , drummer John Longstreth, bassist/vocalist Mike Flores, and vocalist Jason Keyser — strengthening that blueprint with a handful of surprises. Longstreth joins the GIMME guest DJ ranks for an installment of GIMME's Relief Series, where listeners will be able to contribute to the band directly.
Don't miss it! Visit http://gimmeradio.com today!
About GIMME RADIO:
Founded by digital music veterans from Apple Music, Google Play, Beats Music and Napster, GIMME RADIO builds highly engaged communities for the passionate fan on a genre-by-genre basis. The company launched its first community in June of 2017: the world's first 24/7 metal-focused service. Fans tune in to hear world class DJs playing metal they can't hear anywhere else – for free. And GIMME RADIO allows the fans and the DJs/artists to communicate directly with one another in a live feed, real time, as the music is being played. Its roster of 70-plus DJs includes Dave Mustaine of Megadeth, Jessica Pimentel, star of Orange Is The New Black, and Randy Blythe of Lamb Of God among many others.
http://gimmeradio.com
http://www.facebook.com/gimmemetal
http://twitter.com/gimmeradio
http://www.instagram.com/gimmeradio