Chicago's HARM'S WAY will kick off a US tour supporting Kentucky hardcore punk unit Knocked Loose next week. The pummeling trek will commence on April 4th in Springfield, Missouri and run through May 8th in St. Louis, Missouri. Additional support will be provided by The Acacia Strain, Sanction, and Higher Power. See all confirmed dates below.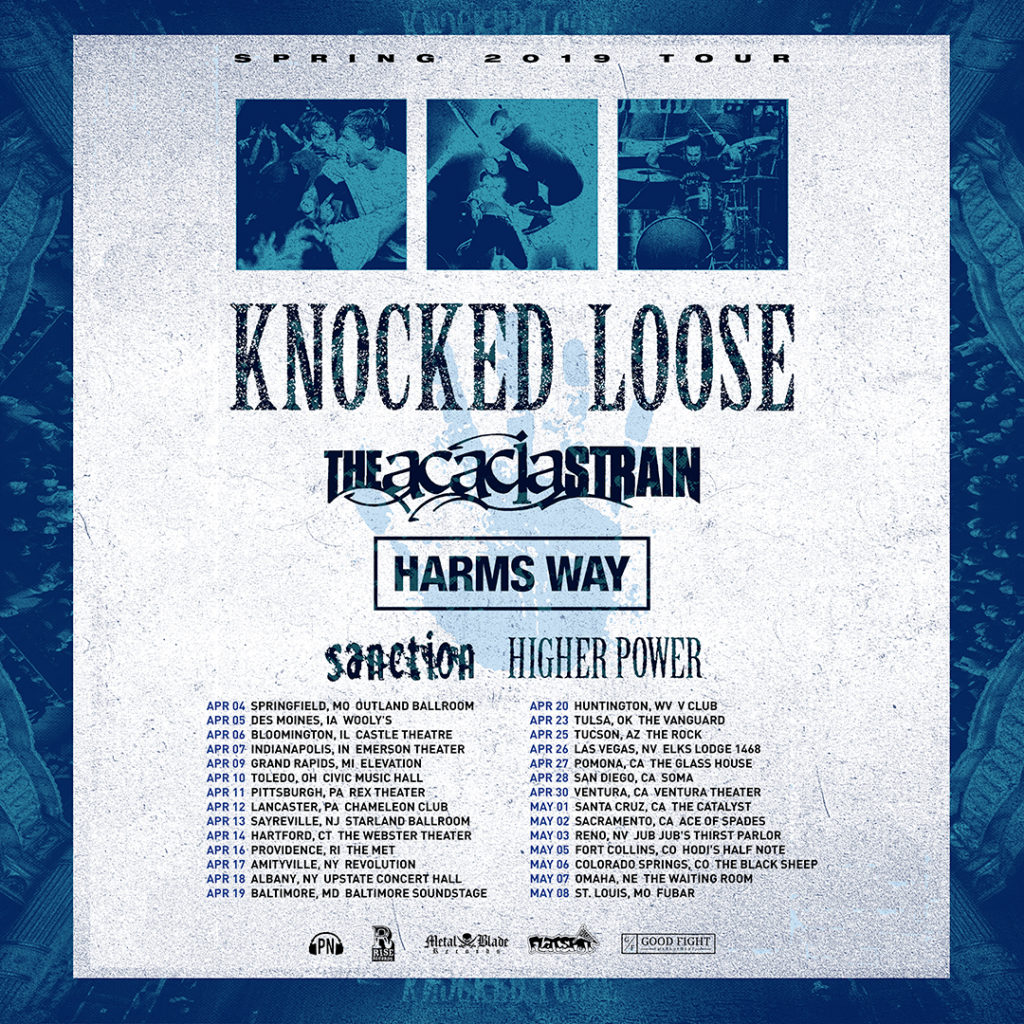 HARM'S WAY w/ Knocked Loose, The Acacia Strain, Sanction, Higher Power:
4/04/2019 Outland Ballroom – Springfield, MO
4/05/2019 Wooly's – Des Moines, IA
4/06/2019 Castle Theatre – Bloomington, IL
4/07/2019 Emerson Theater – Indianapolis, IN
4/09/2019 Elevation – Grand Rapids, MI
4/10/2019 Civic Music Hall – Toledo, OH
4/11/2019 Rex Theater – Pittsburgh, PA
4/12/2019 Chameleon Club – Lancaster, PA
4/13/2019 Starland Ballroom – Sayreville, NJ
4/14/2019 The Webster Theater – Hartford, CT
4/16/2019 The Met – Providence, RI
4/17/2019 Revolution – Amityville, NY
4/18/2019 Upstate Concert Hall – Albany, NY
4/19/2019 Baltimore Soundstage – Baltimore, MD
4/20/2019 V Club – Huntington, WV
4/23/2019 The Vanguard – Tulsa, OK
4/25/2019 The Rock – Tucson, AZ
4/26/2019 Elks Lodge 1468 – Las Vegas, NV
4/27/2019 The Glass House – Pomona, C
4/28/2019 Soma – San Diego, C
4/30/2019 Ventura Theater – Ventura, CA
5/01/2019 The Catalyst – Santa Cruz, C
5/02/2019 Ace of Spades – Sacramento, C
5/03/2019 Job Jub's Thirst Parlor – Reno, NV
5/05/2019 Co Hodi's Half Note – Fort Collins, CO
5/06/2019 The Black Sheep – Colorado Springs, CO
5/07/2019 The Waiting Room – Omaha, NE
5/08/2019 Fubar – St. Louis, MO
HARM'S WAY continues to tour in support of their most recent full-length, Posthuman, out now on Metal Blade Records. Having grown with each subsequent release, Posthuman is a devastating addition to HARM'S WAY's catalog. Exclaim! hails, "an impressive display of brute force that keeps its momentum up from beginning to end." Pitchfork writes, "The swole Chicago hardcore band's latest album shows their raw strength while adding shades of industrial and groove metal for character." Adds Metal Injection, "HARM'S WAY Posthuman gives fans absolutely solid hardcore material, promising utter chaos while providing some welcoming blends in variety in regards to tone and sound. From beginning to end, Posthuman is pure savagery and an early contender for one of the year's heaviest albums."
To preview and purchase Posthuman, visit metalblade.com/harmsway.
http://www.harmsway13.com
http://www.facebook.com/harmsxway
http://www.twitter.com/harmsxway
http://www.metalblade.com
http://www.facebook.com/metalbladerecords
http://twitter.com/MetalBlade