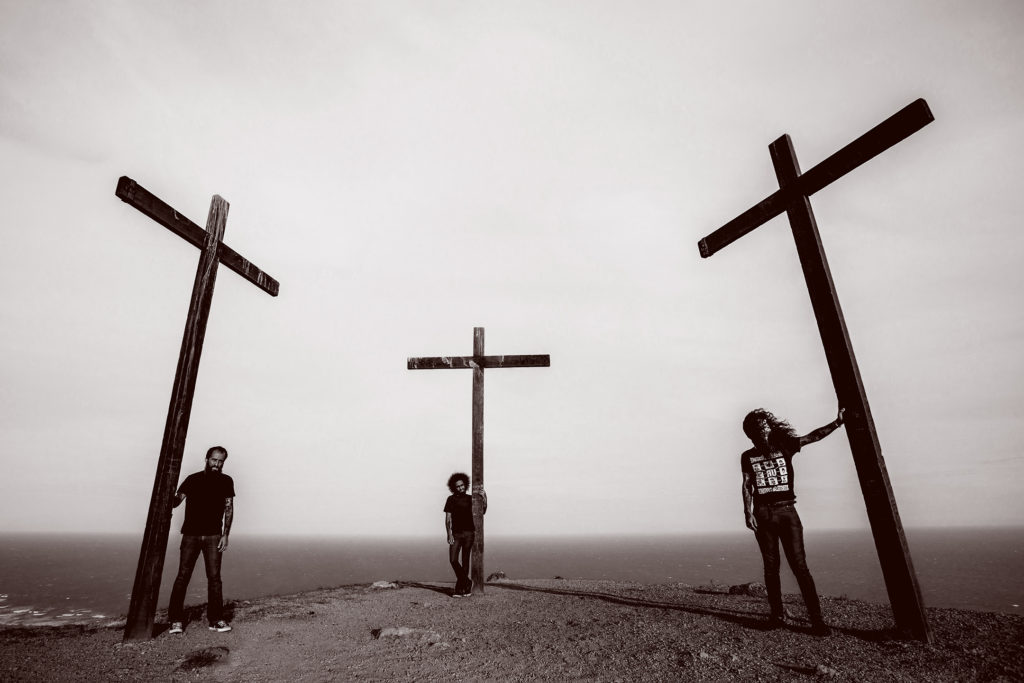 [photo by Jean Ribeiro]
Brazilian experimental/industrial noise punk trio DEAFKIDS presents their intense third LP, and first full-length for Neurot Recordings, Metaprogramação. Tackling existential topics including socio-political angst and dystopian themes, depicted through an avant/artistic lens, and delivered with furious and energetic aggression, DEAFKIDS' singular sound and manic style are an incredibly intriguing and challenging acts out there.
Metaprogramação offers a vertiginous, sensory insight on these inner conflicts and aspects of the animal being. Do not allow yourself to be programmed.
DEAFKIDS' entire Metaprogramação album is now streaming on all digital platforms including Bandcamp HERE, iTunes HERE, and Spotify HERE.
Metaprogramação is out now on LP, CD, and digital formats through Neurot Recordings. Place digital preorders at Bandcamp HERE and physical orders at the Neurot webshop HERE.
DEAFKIDS will tour across Europe in support of the album this Spring, leading with two sets at Roadburn Festival April 11th and 12th. These shows will be followed by several weeks of shows, the tour lasting into early May, and the band joined by Rakta for the journey.
Also announced in recent days, DEAFKIDS will make their way onto North American soil for their first time this Summer, having been confirmed to support labelmates Neurosis alongside Bell Witch in August. The Eastern US and Southeastern Canadian dates run from August 7th through August 17th, with shows in Atlanta, Carrboro, Washington, Philadelphia, Brooklyn, Boston, Montreal, Toronto, Detroit, and Chicago.
Watch for additional tour dates, several videos from Metaprogramação, and more from DEAFKIDS to be posted in the weeks ahead.
DEAFKIDS w/ Rakta:
4/11/2019 Roadburn Festival 2019 -Tilburg, NL
4/12/2019 Roadburn Festival 2019 – Tilburg, NL w/ PetBrick
4/14/2019 – Amsterdam, NL
4/16/2019 D. K. Luksus – Wroclaw, PL
4/17/2019 Underdogs – Prague, CZ
4/18/2019 Urban Spree – Berlin, DE
4/19/2019 Merleyn – Nijmegen, NL
4/20/2019 The Lexington – London, UK
4/21/2019 Soup Kitchen – Manchester, UK
4/22/2019 The Hope & Ruin – Brighton, UK
4/23/2019 Moon – Cardiff, UK
4/24/2019 The Cluny – Newcastle, UK
4/25/2019 Rough Trade – Bristol, UK
4/26/2019 Olympic Cafe – Paris, FR
4/28/2019 SWR Barroselas Metalfest 2019 – Viana do Castelo, PT
4/29/2019 Mag4 – Bruxelles, BE
4/30/2019 Bar Hic – Rennes, FR
5/01/2019 Tri Martolod – Concarneau, FR
5/02/2019 Léo Ferré – Brest Espace, FR
5/03/2019 Les 3 Pieces – Rouen, FR
5/04/2019 Het Bos – Antwerp, BE
5/05/2019 Donau Festival 2019 – Donau, AU
w/ Bell Witch, Neurosis:
8/07/2019 The Masquerade – Atlanta, GA
8/08/2019 Cat's Cradle – Carrboro, NC
8/09/2019 9:30 Club – Washington, DC
8/10/2019 Theatre Of Living Arts – Philadelphia, PA
8/11/2019 Brooklyn Steel – Brooklyn, NY
8/13/2019 Paradise Rock Club – Boston, MA
8/14/2019 Corona Theatre – Montreal, QC
8/15/2019 The Opera House – Toronto, ON
8/16/2019 St. Andrews Hall – Detroit, MI
8/17/2019 Thalia Hall – Chicago, IL
While DEAFKIDS' previous release, Configuração Do Lamento, captured the group delving deep into their own diverse and discordant musical world, Metaprogramação pushes these elements to entirely new extremes. The band imprints a future-primitive psychic scenario into their music by weaving a fabric of electronic pulses, barrages of delay and noise, wailing guitars, and frenzied rhythms that ricochet aggressively between the speakers. Songs are urgent yet fluid, melting and dissolving into one another, culminating in a wild psychedelic journey that's bound to reach one's mind through the body while intoxicating both.
https://deafkidspunx.bandcamp.com
https://www.facebook.com/deafkidspunx
http://www.neurotrecordings.com
http://www.facebook.com/neurotrecordings
https://neurotrecordings.bandcamp.com
https://twitter.com/OfficialNeurot