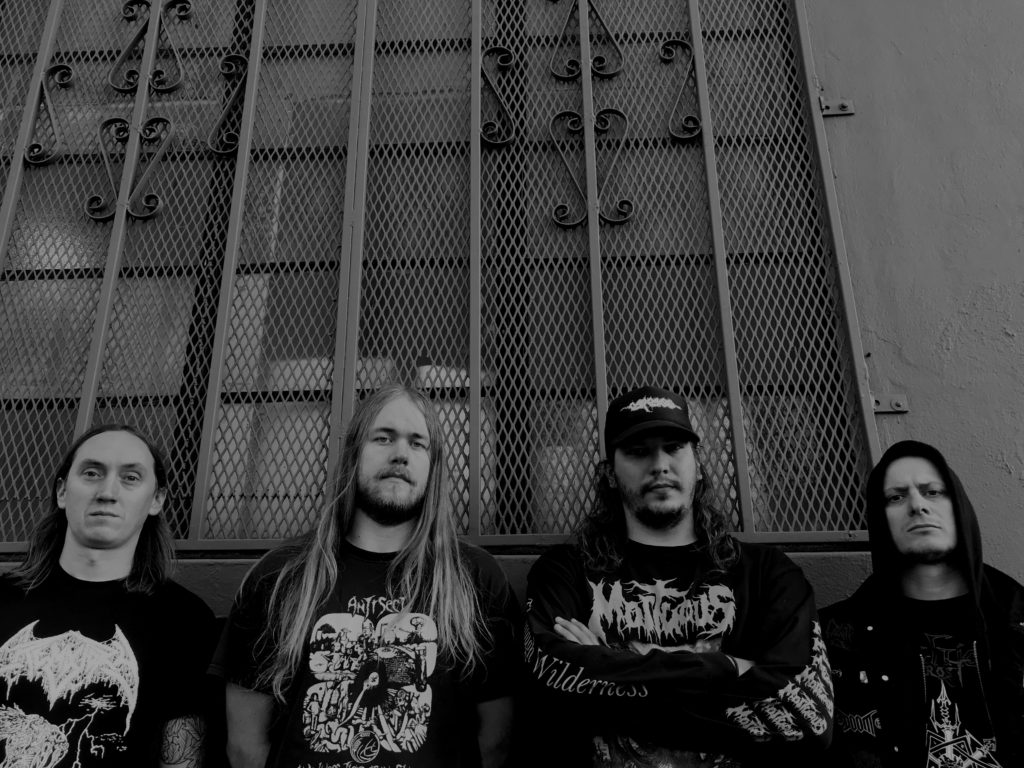 Oakland-based crust metal outfit ATRAMENT presents their second album, Scum Sect, the record seeing release week through a coalition of underground labels, including Sentient Ruin Laboratories, Caligari Records, and Blood Harvest Records. Preceding its release, Noisey is now streaming the entire record.
ATRAMENT's Scum Sect delivers a thirty-minute offering of sprawling hostility and of marvelously regressed sonic barbarism. Fusing together crust/anarcho punk, black and death metal with classic Swedish d-Beat, ATRAMENT draws influence from bands like Doom, Discharge, Deviated Instinct, Skitsystem, Craft, Darkthrone, and Dismember to instate widespread terror and summon total sonic warfare. Scum Sect was recorded at Earhammer Studios by Greg Wilkinson (Vastum, Noothgrush, Autopsy), mastered by Brad Boatright at Audiosiege (Nails, Vallenfyre, Full Of Hell), and completed with nightmarish artwork by dark surrealism master Stephen Wilson.
Noisey states of the LP, "Scum Sect is the perfect title for this Bay Area crust collective's debut—and almost a little too on the nose for an outfit that rips this hard and ugly, and that includes past and current members of such grimy luminaries as Vastum, Necrot, Black September, Mortuous, Abstracter, and Moral Void. With all that in mind, this album is exactly what you'd expect—and it's even better than you'd hope."
Stream ATRAMENT's Scum Sect LP through Noisey now at THIS LOCATION.
Scum Sect will see release on LP, CD, cassette, and digital formats this Friday, September 28th. Find US LP, digital, and cassette preorders at Sentient Ruin Laboratories HERE, cassette preorders at Caligari Records HERE, and European LP and CD preorders at Blood Harvest Records HERE. Also stream prior singles "Spit On Mankind" and "Odium" HERE.
Formed by vocalist Mattia Alagna (Abstracter), guitarist James Meyer (Abstracter, Vale, ex-Moral Void, ex-Black September), bassist Sam Carr-Prindle, and drummer Chad Galey (Necrot, Mortuous, ex-Vastum), ATRAMENT first appeared in 2015 with their infamously wretched two-song demo tape, following up the next year with their proper full-length album, Eternal Downfall, released in 2016 by Argento Records in Europe and Broken Limbs Recordings in the US. Eternal Downfall first introduced the full spectrum of ATRAMENT's bludgeoning sonic weapon: a maelstrom of incredibly dark, negative, and hateful crust punk driven by a barrage of crushing d-beat drumming and laced with the deadliest strains of primal death metal and of the most cancerous raw black metal.
Now, ATRAMENT has re-emerged with Scum Sect, their most vile and malevolent music to date. Within the total chaos and endless destruction of these harrowing thirty minutes, the listener will face a world riddled with plague and torment that appears hopeless and torn as an utter firestorm of crashing d-beats, shrapnel-infused riffs, and abhorrent atmospheres is unleashed upon them with methodical hostility. Thematically and lyrically with Scum Sect, ATRAMENT covers themes of nihilism and misanthropy, rejecting humanity in its every aspect and embracing instead all the vermin, diseases, plagues and calamities which affect humanity and which it attempts to constantly destroy and fight in its own parasitic quest for survival.
https://atrament.bandcamp.com
https://www.facebook.com/blackatrament
https://www.instagram.com/atramentdeathpunx
http://sentientruin.com
http://www.caligarirecords.com
http://www.bloodharvest.se