[photo by Paul Lee]
MetalSucks is now playing a video of Los Angeles-based TRAPPIST invading Wayfinder Beer in Portland to create a batch of steinbeer – handmade beer brewed through an ancient method – bringing to life the title of their Ancient Brewing Tactics LP.
TRAPPIST is bassist/vocalist/brewer Chris Dodge (Spazz, ex-Infest, ex-Despise You, etc.), guitarist/vocalist/fermenter Phil Vera (Crom, Despise You, ex- -16-), and drummer/vocalist/bottler Ryan Harkins (co-owner of Grill 'Em All). The band just released their inebriating debut album, Ancient Brewing Tactics, through Relapse Records in August, which sees the trio not only creating a debilitating blend of powerviolence/grindcore-infused hardcore, it also showcases their deep interest, knowledge, and pride in the creation and ingestion of craft beer.
Wayfinder Beer is a new brewery project in Portland, Oregon, transforming 8,900 square feet of a century-old brick warehouse in Portland's Central Eastside into a classic destination for beer and food lovers. The company is the brainchild of Charlie Devereux (co-founder of Double Mountain Brewery), Matthew Jacobson (co-founder/owner of Sizzle Pie, Quality Bar, and Relapse Records) and Rodney Muirhead (co-founder/owner of Podnah's Pit and La Taq). Their mission: to bring simple and authentic pleasures of the highest quality to the Rose City and beyond.
The beer is named Ancient Brewing Tactics – in obvious homage to the debut TRAPPIST album – and is a collaboration between the band and Wayfinder based on the archaic brewing style of trappist monks. The suds are available for a limited time at Wayfinder.
See the video at MetalSucks RIGHT HERE.
Ancient Brewing Tactics is out now on CD, LP, and digital platforms. See the "Victims Of A Bomber Raid" and "No Soldier Left Behind" videos, the "Hymn To Ninkasi" lyric video, and stream the entire album alongside preorder options at Relapse.com HERE and via digital services HERE.
TRAPPIST has also been added to Decibel Magazine's inaugural Beer & Metal Fest Los Angeles on December 1st and 2nd, set to perform alongside the likes of Testament, Triptykon, Godflesh, The Black Dahlia Murder, Khemmis, Pig Destroyer, Yob, Power Trip, and others, with a wide array of craft breweries set to fill the joint with high quality suds. Watch for additional TRAPPIST tour dates, including a run on the East Coast this fall and more to be announced shortly.
TRAPPIST Live:
10/01/2018 Resident – Los Angeles, CA w/ Vitamin X, ACxDC, Skullcrack [info]
12/01-02/2018 The Wiltern – Los Angeles, CA @ Decibel Beer & Metal Fest Los Angeles [info]
Formed in 2014, TRAPPIST has one clear mission, to annihilate the listener with a storm of d-beat, crust punk, powerviolence, and hardcore all in the name of BEER. Picture Discharge-style punk and Xeroxed WWII photos with bombs replaced by casks, cans, and kegs. Ancient Brewing Tactics deploys twenty-one tracks in thirty-three minutes; booze-induced chaos, bound to knock you on your ass faster than shotgunning a 15% Russian Imperial Stout. The album features guest appearances by Tony Foresta (Municipal Waste, Iron Reagan), Steve Brooks (Torche), and Blake Harrison (Pig Destroyer). For the ultimate sensory experience, TRAPPIST has recommended a specific beer pairing for listeners to drink along to each song on the album. NO CORPORATE BEER.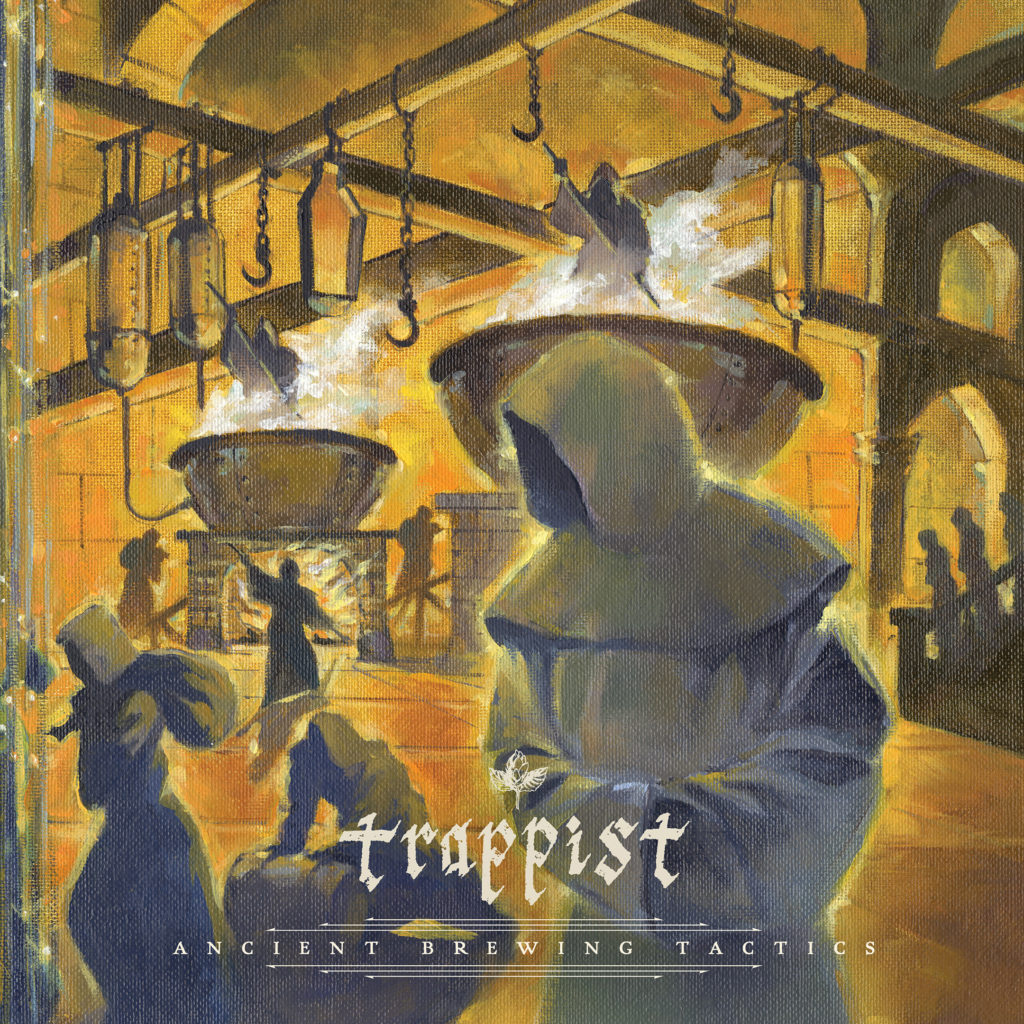 https://www.facebook.com/Trappist-343063286087830
https://www.instagram.com/trappist_la
http://trappist.storenvy.com
http://www.relapse.com
http://www.relapserecords.bandcamp.com
http://www.facebook.com/RelapseRecords
http://www.twitter.com/RelapseRecords
https://www.instagram.com/relapserecords