[photos by Chad Fjerstad]
LA-based rock trio THE PRIMALS will release of their debut, All Love Is True Love, via Southern Lord this Friday. The album is streaming in advance via Louder Sound, who calls the record, "one of the best power pop records in years." The feature includes a track-by-track guide from vocalist/guitarist John Henry (also of Darkest Hour) who is joined in THE PRIMALS by bassist Chad Fjerstad (formerly of Dead To Fall), and drummer Andrew Black (formerly of The Explosion).
THE PRIMALS' fuzzy execution is equal slabs ripping guitar heaviness and infectious pop sensibility. Concocted by a seasoned group of thrashers with a historical backbone in the D.C. punk community, the disintegrated spirit of grunge rises from the ashes, revitalized in a new light.
Listen to All Love Is True Love, the debut album by THE PRIMALS, at Louder Sound RIGHT HERE.
All Love Is True Love features ten infectious tracks produced by John Reis (Rocket From The Crypt, Drive Like Jehu, Hot Snakes) and completed with cover art by Laura K. Giron. Fans of Wand, Ty Segall, Nirvana, and The Pixies are especially recommended to tune in.
Southern Lord will release THE PRIMALS' All Love Is True Love on CD, LP, and digital platforms on September 7th. Find digital preorders at Bandcamp HERE, at iTunes HERE, and find physical preorder options at the US label webshop HERE and the European label shop HERE.
THE PRIMALS will support the release of All Love Is True Love with several record release shows on both the West and East Coasts, including a Los Angeles show this Friday, September 7th, followed the following week by release shows Washington, DC on September 14th and Brooklyn on September 15th. The band will also join the legendary '60s garage rock act The Sonics at the newly-announced kickoff party for the return of The Power Of The Riff, November 17th in Los Angeles. Watch for new tour dates to be announced in the weeks ahead.
THE PRIMALS Live:
9/07/2018 Hi-Hat – Los Angeles, CA *record release show w/ Prissy Whip, Death Crux, Fraude, DJ Tuna [info]
9/14/2018 The Pinch – Washington, DC *record release show w/ Despite Despair, Rat Infested [info]
9/15/2018 El Cortez Safari Room – Brooklyn, NY *record release show
11/17/2018 The Echo – Los Angeles, CA @ The Power Of The Riff kickoff party w/ The Sonics [info]
"Channeling Redd Kross' soaring harmonies, The Posies' taste for sugary darkness and Kurt Cobain's ability to disguise an arsenal of irresistible hooks under a barrage of pounding fuzz, the album rips up grunge's '90s roots and replants them for a modern audience." – Louder Sound
"THE PRIMALS have an impressive pedigree, boasting a lineup consisting of current and former members of Darkest Hour, The Explosion, and Dead To Fall… The band is fronted by John Henry, best known as the vocalist of veteran metal band Darkest Hour. Musically, THE PRIMALS' music is a far cry from the melodic death metal stylings of Darkest Hour, but the band still brings some heavy riffing to their infectious brand of rock." – Consequence Of Sound
"ballsy hard rock with a definite melodic punk bent to it… the record is a fuzzed-out riff fiesta with quirky yet pleasing hooks finding their way throughout the whole affair." – No Echo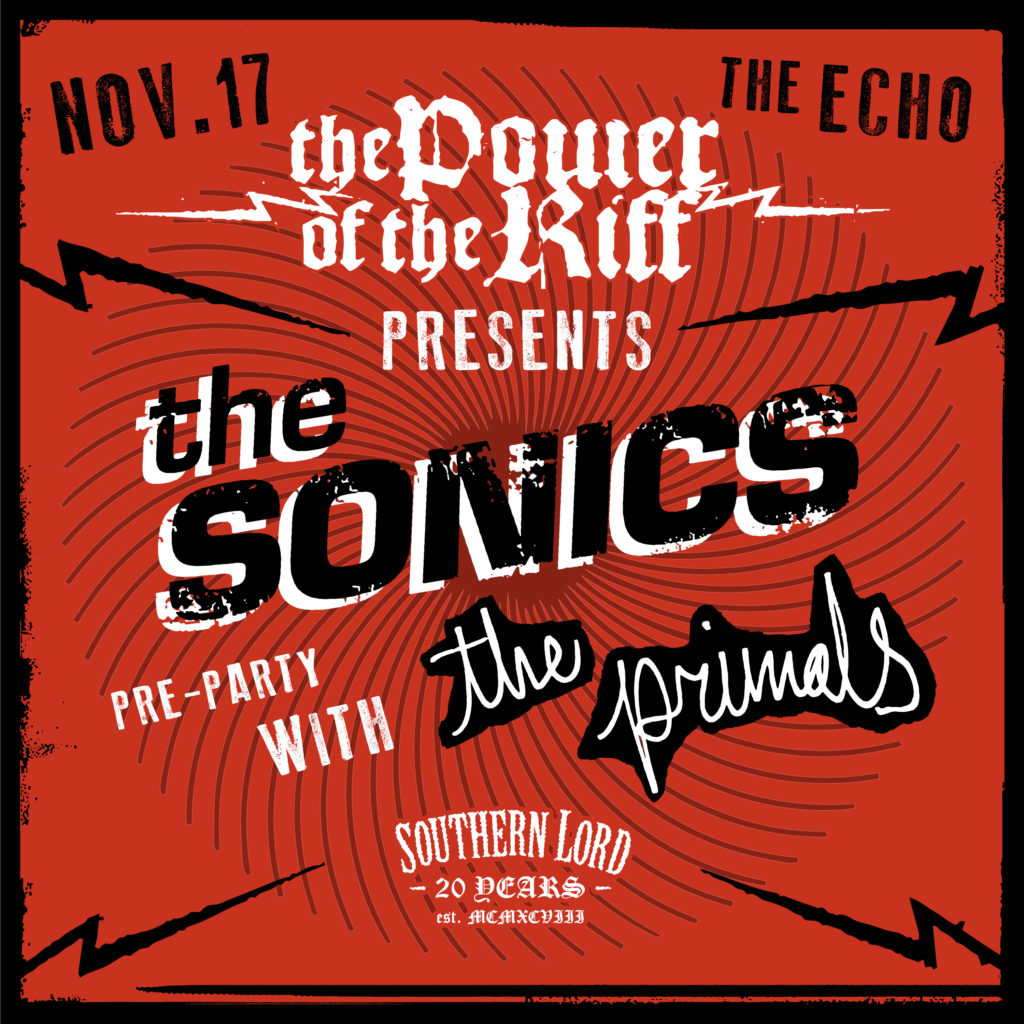 https://www.facebook.com/ThePrimalsLA
https://theprimalssl.bandcamp.com/releases
http://www.southernlord.com
http://southernlord.bandcamp.com
http://www.facebook.com/SLadmin
http://twitter.com/twatterlord