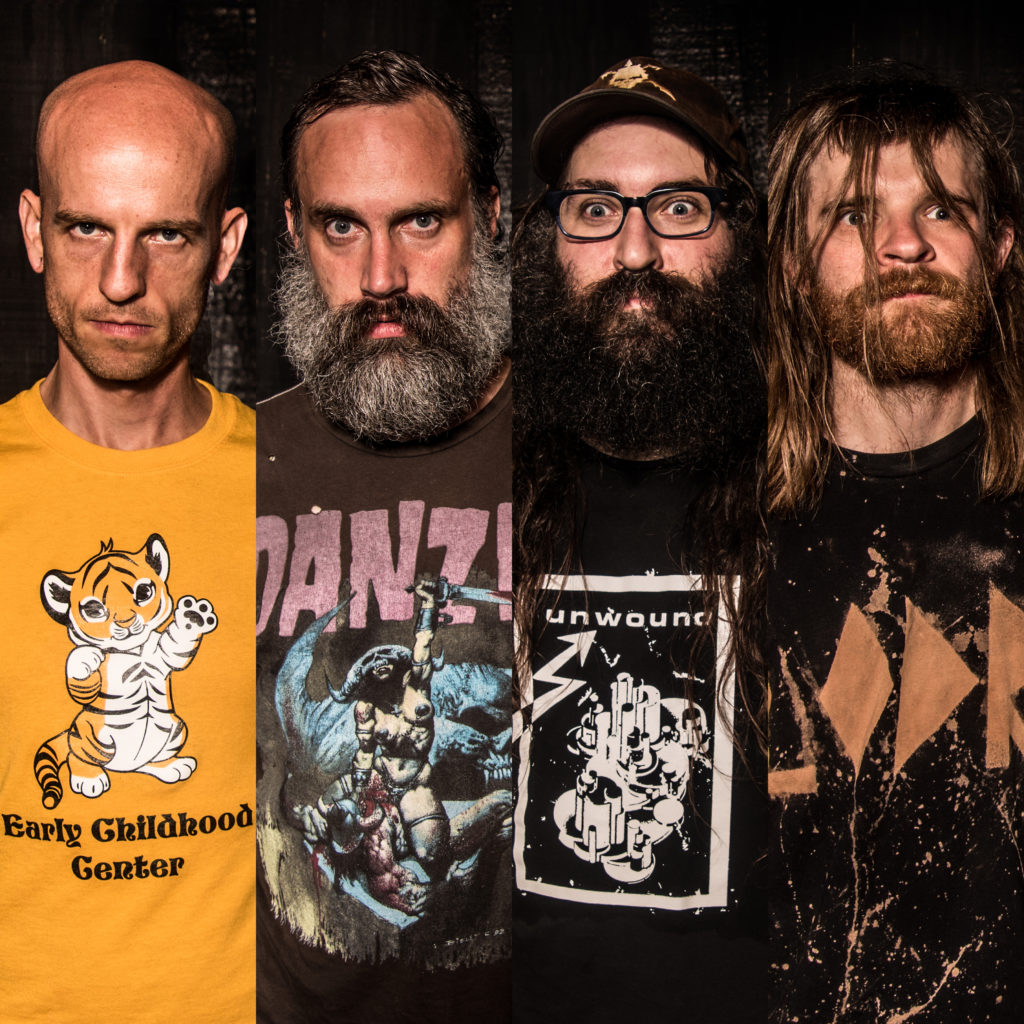 Burnt Offerings: Covers And Rarities 2010 – 2017, the mammoth 2xCD collection from Detroit noise rock legion CHILD BITE, is out now via Housecore Records! A compilation of rare tunes compiled from the last seven years of audio bedlam, the beefy twenty-eight track offering includes several unreleased cuts as well as six cover songs featuring Philip H. Anselmo.
Decibel calls the output, "…crucial for collectors and noise rock diehards…" Rock And Roll Fables notes, "CHILD BITE tap into this primal feeling of wonder each time they play by producing music that's genre-defying and takes listeners on a different sonic journey with each new track." Adds Nine Circles, "for fans, this may be one of the most engrossing looks at the Detroit heavy hitters to date."
Stream Burnt Offerings: Covers And Rarities 2010 – 2017 at the Housecore Bandcamp page at THIS LOCATION.
For physical orders, visit the Housecore Store HERE.
CHILD BITE recently returned from a month-long Australian tour supporting labelmates King Parrot. The band will take to the streets again beginning with a one-off show later this month with '70s San Francisco art punk legends Chrome. From there, the band will join Unsane for a short run of dates in July which includes a performance on the Rocks Off Concert Cruise. Additionally, CHILD BITE is confirmed to play RPM Fest 2018 in Montague, Massachusetts in August as well as Days Of Darkness II in Baltimore, Maryland this October with more dates to be announced soon.
CHILD BITE:
5/24/2018 Outer Limits Lounge – Detroit, MI w/ Chrome
w/ Unsane:
7/10/2018 Photo City – Rochester, NY
7/11/2018 Rocks Off Concert Cruise – New York, NY
7/12/2018 Club Cafe – Pittsburgh, PA
7/13/2018 The Blind Pig – Ann Arbor, MI
7/14/2018 Empty Bottle – Chicago, IL
7/15/2018 Turf Club – St. Paul, MN
7/17/2018 Fubar – St Louis, MO
7/18/2018 Nomads – Fayetteville, AR
8/24-26/2018 RPM Fest 2018 – Montague, MA w/ Tombs, Acid Witch, Incite, Barishi, more
10/27-28/2018 Days Of Darkness II – Baltimore, MD w/ Blue Oyster Cult, Front Line Assembly, more
CHILD BITE is an American noise rock/hardcore punk/heavy metal band formed in 2005 in Detroit, Michigan. The band's core members are founding vocalist Shawn Knight and long-time bassist Sean Clancy. CHILD BITE has released four full-length albums and ten EPs over the past twelve years, all featuring artwork by Shawn Knight. Their upcoming two-disc anthology, Burnt Offerings, features twenty-four tracks of rarities and covers recorded between 2010-2017. To date, CHILD BITE has played nearly nine-hundred shows throughout Europe and North America, including tours supporting acts such as Down, Voivod, Negative Approach, Superjoint, Poison Idea, and Unsane. The band recently completed a month-long Australian tour with labelmates King Parrot.
http://www.childbite.com
http://www.facebook.com/childbite
http://www.thehousecorerecords.com
http://www.thehousecorestore.com
http://www.facebook.com/housecorerecords