[photo by Nicolas Côté]
"It's two minutes to midnight on the Doomsday Clock, and no matter how much you stare at the strings you're not going to see any cat or any cradle."
Chicago's unhinged metal/hardcore outfit NEQUIENT has dispatched a new track from their Nefarious Industries-bound Wolves At The Door, through a premiere of the album's "Cat's Cradle" through Invisible Oranges.
Recorded by Pete Grossmann at Bricktop Recording (Weekend Nachos, Immortal Bird, Disrotted) and mastered by Brad Boatright at Audiosiege (Integrity, All Pigs Must Die, Full Of Hell), and completed with artwork by M.G. Miller (Bongripper, Lord Mantis, Sick/Tired), NEQUIENT's Wolves At The Door is an explosive album full of unrelenting energy fans of Converge, Baptists, Cursed, All Pigs Must Die, and similar metallic hardcore/punk should not ignore.
NEQUIENT reveals of the new song, "'Cat's Cradle' gives you a look at the more dynamic and rhythmically inventive side of the album. Overall, it's a dense, heavy track that lets everyone in the band stretch out and show off a little bit. As many people would probably guess, the title is a reference to Kurt Vonnegut's 1963 novel. The lyrics attempt to engage with what that book had to say about humanity's most destructive tendencies and the way we paper over that horror with flimsy, arbitrary belief systems. We live in a dangerous moment of high tensions around the world and political rhetoric that's increasingly unhinged from reality or compassion. Meanwhile, the weapons that inspired Vonnegut to imagine his version of the apocalypse have not gone away. It's two minutes to midnight on the Doomsday Clock, and no matter how much you stare at the strings you're not going to see any cat or any cradle."
Invisible Oranges offers in part with their premiere, "The composition is barreling and misanthropic, like many a good Vonnegut tale; and is certainly a worthy take at honoring one hell-of-a-good writer who always seemed right on the edge of fantasy and reality. NEQUIENT is aware of this precarious line, and 'Cat's Cradle' — a new single from their upcoming full-length Wolves At The Door — rips hard in its apocalyptic hue."
Deploy NEQUIENT's "Cat's Cradle" via Invisible Oranges RIGHT HERE.
Also stream the album-opening "Scorcher" through Toilet Ov Hell HERE.
Nefarious Industries will release Wolves At The Door on CD and digital platforms on May 18th; find preorders HERE. Sassbologna Records will release a limited tape edition.
NEQUIENT has booked several regional shows celebrating the release of the album, playing May 18th in DeKalb, May 19th in Minneapolis, and May 20th in Chicago. Widespread tour dates in support of Wolves At The Door, additional audio samples, and more will be released in the weeks ahead.
NEQUIENT Live:
5/18/20187th Street Space – DeKalb, IL
5/19/2018 The Sarcophagus – Minneapolis, MN
5/20/2018 LiveWire Lounge – Chicago, IL
NEQUIENT's initial lineup came together in early 2014 to play raw, vicious crust. Over the course of several personnel shifts, the band honed its sharp delivery as a live unit and worked on increasingly varied new material. The band began touring regionally and recorded 2015's Infinite Regress EP with producer Pete Grossmann at Bricktop Recording. In early 2017, the group settled on its current four-piece configuration and spearheaded a politically motivated benefit compilation titled Fight Liar With Fire, issued through Sassbologna Records. Later the same year, the band returned to Bricktop, recording first proper full-length album, Wolves At The Door.
Bursting with an unrelenting eleven-track assault, Wolves At The Door shows off NEQUIENT's growth as writers and performers earned through their years of DIY recording and touring, without sacrificing an ounce of pummeling aggression. Drawing from a wide range of influences – including crust, sludge, grind, old-school death metal, and black metal – NEQUIENT pummels listeners from all directions but never forgets to land the hook. They specialize in relentless, fleet-fingered riffs backed by d-beats, single-foot blasts, and an array of inventive fills. The vocals shift from mid-range barks to death metal grunts and pained shrieks, unified by inexhaustible aggression and a lyrical bent toward social critique.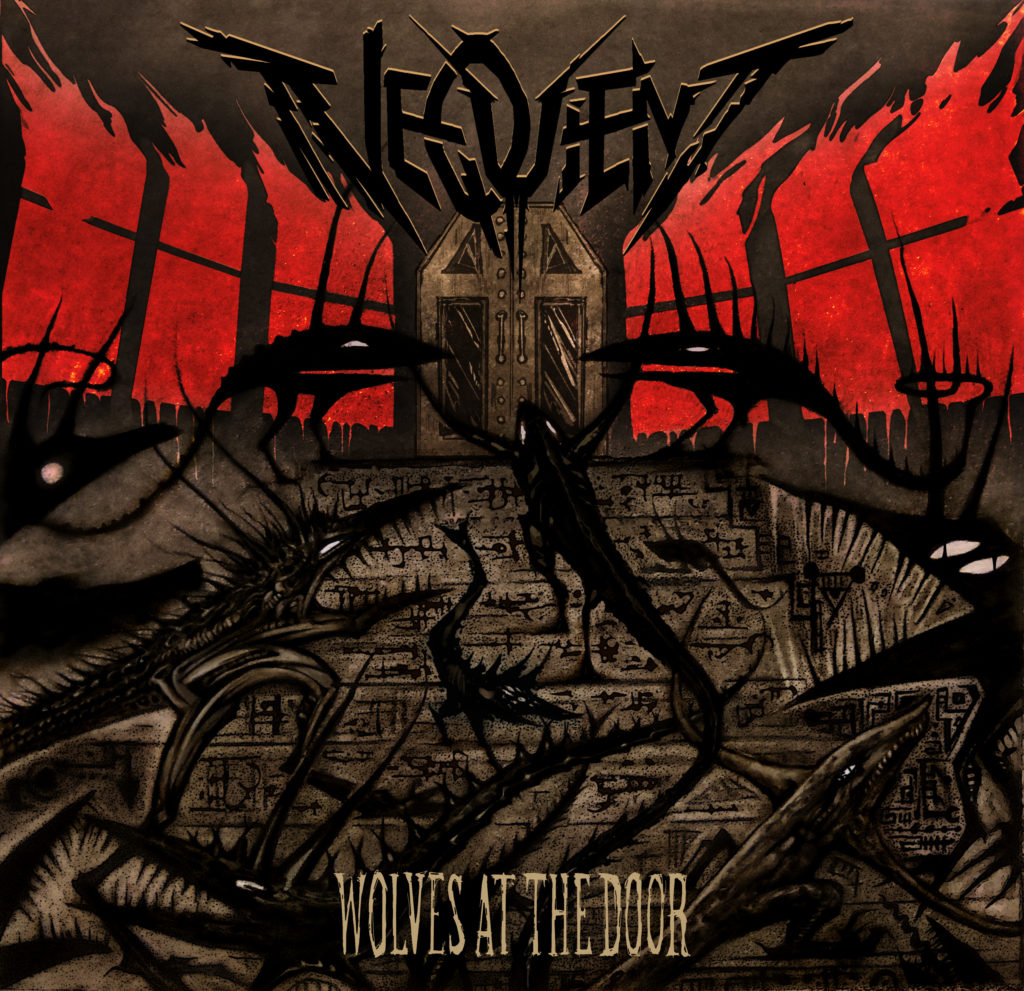 https://nequient.bandcamp.com
https://www.facebook.com/nequientband
http://nefariousindustries.com
http://www.facebook.com/NefariousIndustries
http://www.twitter.com/NefariousInd