"…the ultimate psychedelic desert doom experience; a sunburnt evening adventure through the summer heat via Scandinavia…" — Overdrive Magazine
Swedish psychedelic doom unit BESVÄRJELSEN — featuring within its ranks past members of Dozer, Greenleaf, Afgrund, Lastkaj, and V — will release their debut full-length Vallmo later this month via Suicide Records. In advance of its release, Decibel Magazine is offering up an exclusive stream of "I Skuggan Av Ditt Mörker" ("in the shadow of your darkness").
Issues Decibel of the band's latest psalm, "For all their lush textures, BESVÄRJELSEN are still firmly rooted in doom and stoner metal, from the Black Sabbath-esque logo the rumbling guitar and bass that keep the band moving forward. Over the course of their new album, Vallmo, BESVÄRJELSEN return to their doom roots regularly, never becoming lost in psychedelia or exploration."
Hear "I Skuggan Av Ditt Mörker," courtesy of Decibel Magazine, at THIS LOCATION.
View the album trailer as well as previously released videos for "Return To No Return" and "Under En Svart Himmel" below.
Vallmo will see release on vinyl and digital formats via Suicide Records in cooperation with DalaPop on March 27th. Preorders are available at THIS LOCATION.
Already captivating the ears of critics both stateside and abroad, Original Rock calls Vallmo a, "delightfully dark and intricate release." Overdrive Magazine crowns it, "the ultimate psychedelic desert doom experience, a sunburnt evening adventure through the summer heat via Scandinavia," while The Obelisk elaborates, "its sound is a deeply varied wash of progressive heavy post-rock atmospherics, moody soul-searching melodicism, and weighted groove. Lyrics switch back and forth between Swedish and English depending on the song… and with vocal duties shared among multiple members between frontwoman Lea Amling Alazam and guitarists Andreas Baier and Staffan Winroth, there's an obvious commitment to a varied approach that comes through on Vallmo's eight tracks/fifty-one minutes and, in kind with the depth of the mix and the richness of tones and melodies, makes the album an all-the-more-satisfying listening experience."
BESVÄRJELSEN – Swedish for "conjuring" – was forged in 2014. Though clearly rooted in the realms of doom, within their engulfing sound lies traces of progressive metal, punk, folk, and classic rock 'n' roll all carefully weaved together resulting in a sound that is at once crushingly heavy and alluringly sophisticated. The band released their debut EP Villfarelser in 2015 which was followed by 2016's Exil EP. Both releases, though self-financed and released with little outside promotion, were well-received by Swedish media and even found airplay on Swedish National Radio.
Much of 2017 found BESVÄRJELSEN composing the the audio alchemy found on their first full-length studio offering Vallmo (Swedish for "poppy"). Vallmo more than ever showcases the band's enormous potential, the eight-track offering seamlessly wandering from crushing doom riffs to catchy vocals and melodies, deep lyrical content, and storming drum work, all topped by stunning guitar solos and, for the first time since the band's formation, songs in English as well as their native Swedish.
BESVÄRJELSEN's Vallmo was captured at Studio Glashuset and Midlake Studios by guitarist/vocalist Andreas Baier and comes sheathed in the cover art of Blodpest with design by drummer Erik Bäckwall.
BESVÄRJELSEN:
Lea Amling Alazam – vocals
Andreas Baier – guitar, vocals
Staffan Winroth – guitar, vocals
Erik Bäckwall – drums
Johan Rockner – bass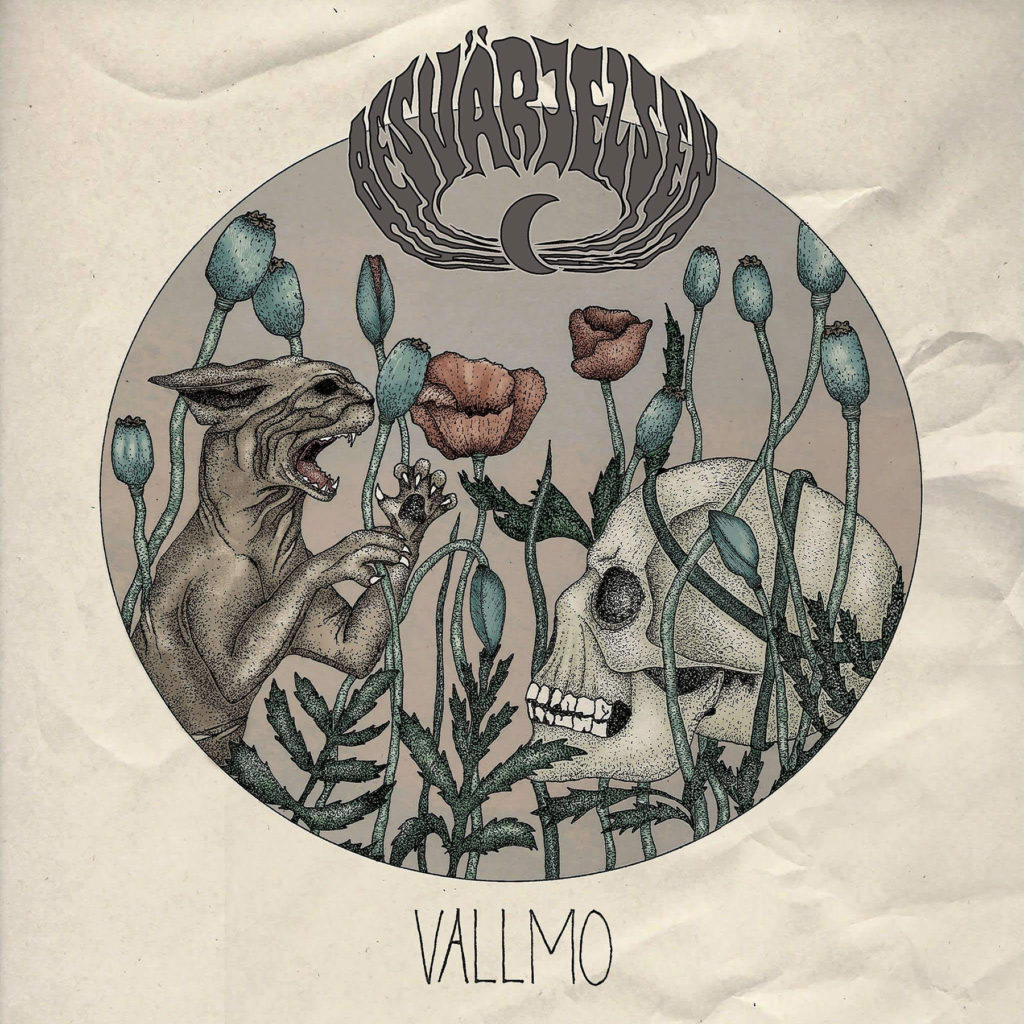 http://www.facebook.com/besvarjelsen
http://www.instagram.com/besvarjelsen/
http://www.suiciderecords.se
http://www.facebook.com/suiciderds