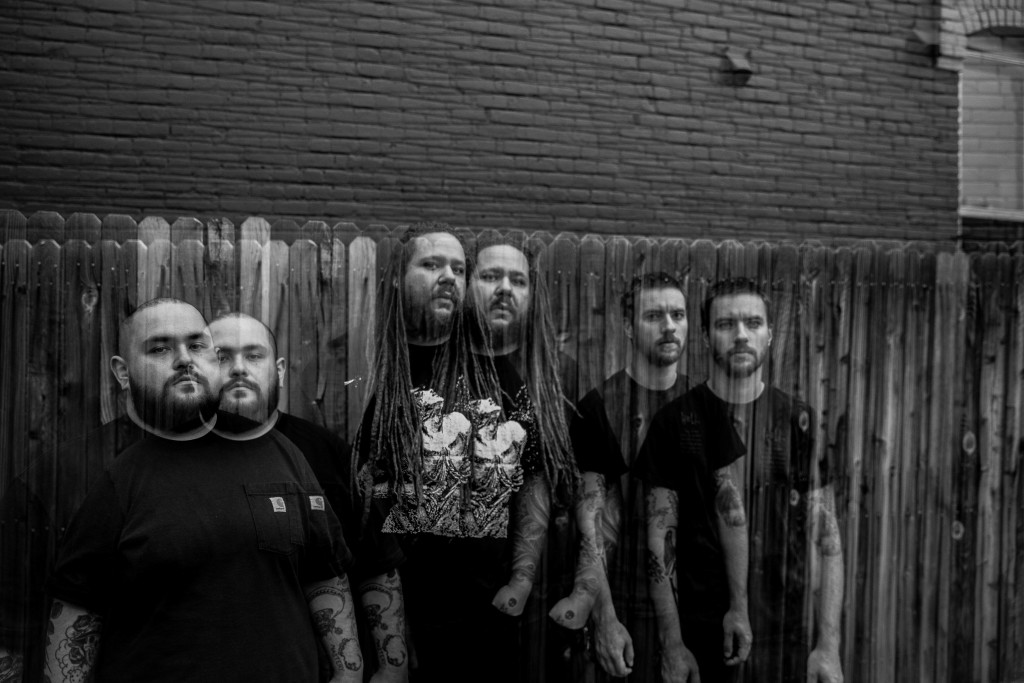 Denver-based nihilistic doom bringers PRIMITIVE MAN share their NSFW video for "Sugar Hole" today via Revolver Magazine. The track comes off their recently issued Caustic full-length.  "Sugar Hole" is a Novelconcept.TV Production and is directed by Marcos Morales and Neil Barrett.
Comments the band, "Death's holy scythe has been replaced by an automatic weapon in the modern age. Mother nature is being asphyxiated. On all shores, people are divided, and life is in turmoil. Humanity is on trial, pick a side."
Adds Revolver, "the disturbing, psychedelic visual sees a mysterious, reaper-like figure suffocating an aging, nude woman (mother nature) — think of it as a global warming PSA masquerading as an old-school snuff film, only more metal."
Watch the uncensored video exclusively via Revolver Magazine HERE.
PRIMITIVE MAN's Caustic was captured at Flatline Audio by Dave Otero (Cobalt, Cephalic Carnage, Cattle Decapitation et al), and boasts over seventy-five minutes of bloodcurdling howls, abysmal tones, and dense, unsettling feedback, spewing forth a cesspool of utter misery. With lyrical themes ranging from political corruption, personal struggle, and the crumbling social climate facing the world today, Caustic serves as a cataclysmic soundtrack for a world gone awry.
Watch PRIMITIVE MAN's previously released videos for "Victim" and "Commerce" via YouTube HERE. Stream Caustic HERE.
Caustic is out now on CD, 2xLP, cassette, and digital formats via Relapse Records. Physical packages and digital orders are available via Relapse.com HERE and HERE.
PRIMITIVE MAN begins their spring headlining tour with Spectral Voice this Saturday, March 17th in Omaha, Nebraska. The tour runs through twenty-four cities and ends on April 9th in Denver, Colorado. PRIMITIVE MAN has also announced a United Kingdom tour from April 25th to May 6th with Bismuth. The excursion also includes an exclusive one-off and the band's first ever performance in Tel Aviv, Isreal. PRIMITIVE MAN will them kick off a West Coast headlining tour this Spring. The journey, which runs from May 19th in Fort Collins, Colorado through June 18th in Dallas, Texas, and includes appearances at Northwest Terror Fest and Austin Terror Fest. Direct support will be provided by Infernal Coil, Celeste, Wayfarer, and Forn on select dates. See all confirmed dates below.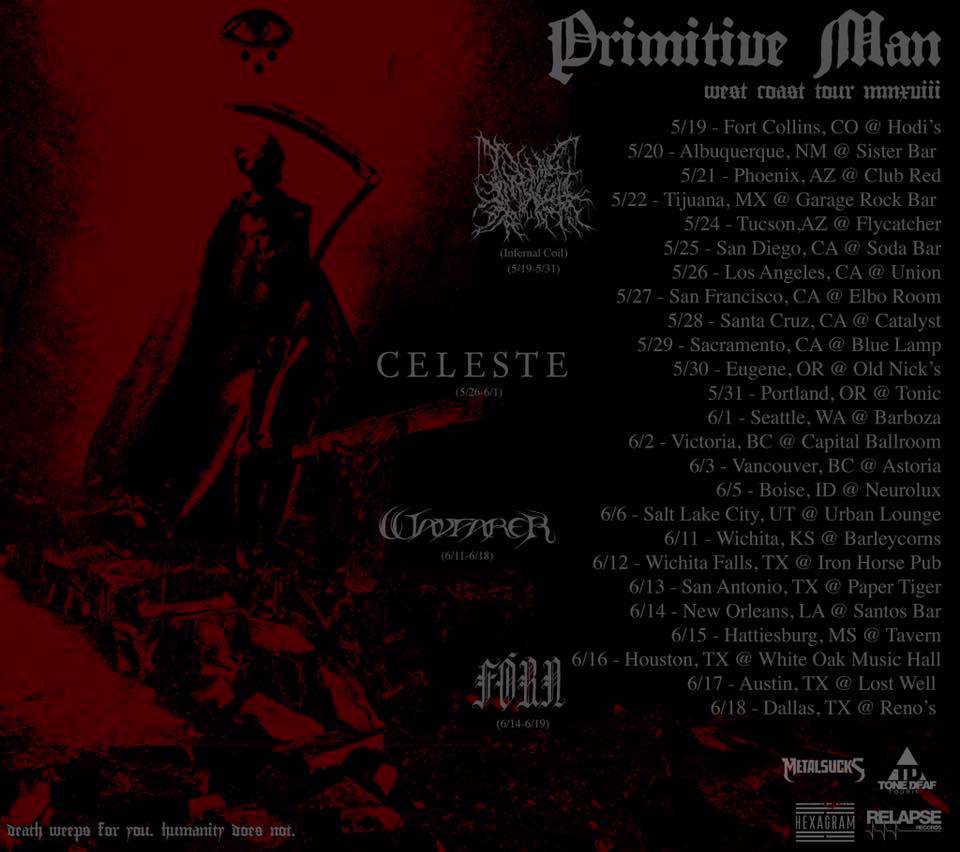 PRIMITIVE MAN w/ Spectral Voice:
3/17/2018 The Sydney – Omaha, NE
3/19/2018 7th St. Entry – Minneapolis, MN
3/20/2018 Subterranean – Chicago, IL
3/21/2018 Macs Bar –  Lansing, MI
3/22/2018 Cattivo – Pittsburgh, PA
3/23/2018 Spark Art Space – Syracuse, NY
3/24/2018 Lees Palace – Toronto, ON
3/25/2018 Mavericks – Ottawa, ON
3/26/2018 L'Anti – Quebec City, QC
3/27/2018 Bar LeRitz – Montreal, QC
3/28/2018 Middle East – Boston, MA
3/29/2018 Geno's Rock Club – Portland, ME
3/30/2018 Meatlocker – Montclair, NJ
3/31/2018 Saint Vitus Bar – Brooklyn, NY
4/01/2018 Kung Fu Necktie – Philadelphia, PA  **
4/02/2018 Atlas Brew – Washington D.C.
4/03/2018 Strange Matter – Richmond, VA
4/04/2018 Basement – Atlanta, GA
4/05/2018 The End – Nashville, TN
4/06/2018 Fubar – St. Louis, MO
4/07/2018 Rock Island Brewing Co. – Rock Island, IL
4/08/2018 Riot Room – Kansas City, MO
4/09/2018 Syntax Physics Opera –  Denver, CO
End Tour
w/ Bismuth:
4/25/2018 Trillians Rock Bar –  Newcastle, UK
4/26/2018 North Of The Wall – Glasgow, UK
4/27/2018 The Old Courts – Wigan, UK
4/28/2018 Rebellion Club – Manchester, UK
4/29/2018 West Street Live – Sheffield, UK
4/30/2018 Old England – Bristol, UK
5/01/2018 Temple of Boom – Leeds, UK
5/03/2018 Levontin 7 – Tel Aviv, IL **
5/04/2018 Angel Microbrewery – Nottingham, UK
5/05/2018 The Junction – Plymouth, UK
5/06/2018 Desert Fest – London, UK
End Tour
5/19/2018 Hodi's – Fort Collins, CO w/ Infernal Coil
5/20/2018 Sister Bar – Albuquerque, NM w/ Infernal Coil
5/21/2018 Club Red – Phoenix, AZ – Club Red w/ Infernal Coil
5/22/2018 Garage Rock Bar – Tijuana, MX
5/24/2018 Flycatcher – Tucson, AZ
5/25/2018 Soda Bar – San Diego, CA
5/26/2018 Union – Los Angeles, CA w/ Celeste
5/272018 Elbo Room – San Francisco, CA w/ Celeste
5/28/2018 Catalyst – Santa Cruz, CA w/ Celeste
5/29/2018 Blue Lamp – Sacramento, CA w/ Celeste
5/30/2018 Old Nick's – Eugene, OR w/ Celeste
5/31/2018 Tonic – Portland, OR w/ Celeste
6/01/2018 Northwest Terror Fest 2018 – Seattle, WA
6/02/2018 Capital Ballroom – Victoria, BC
6/03/2018 Astoria – Vancouver, BC
6/05/2018 Neurolux – Boise, ID
6/06/2018 Urban Lounge – Salt Lake City, UT
6/11/2018 Barleycorns – Wichita, KS w/ Wayfarer
6/12/2018 Iron Horse Pub – Wichita Falls, TX w/ Wayfarer
6/13/2018 Paper Tiger – San Antonio, TX w/ Wayfarer
6/14/2018 Santos Bar – New Orleans, LA  w/ Wayfarer, Forn
6/16/2018 White Oak Music Hall – Houston, TX w/ Wayfarer, Forn
6/17/2018 Austin Terror Fest 2018 – Austin, TX w/ Wayfarer, Forn
6/18/2018 Reno's – Dallas, TX w/ Wayfarer, Forn
6/29-30/2018 Electric Funeral Fest – Denver, CO
8/16-19/2018 Temple Of Ascension Vol. 1 –  Edmonton, AB
**PRIMITIVE MAN only
 "…an over 75-minute-long, dense, disturbing soundtrack to horror. Manic blast beats and tremolo-picked minor chords melt into feedback-drenched waves of discomfort. The weight of the album is visceral, its misery and hopelessness made audible." — Noisey
"…filthy, ugly, brutish, and sounds like a long lifetime of hatred, pain, misery and destruction." — Metal Injection
"It's louder. It's heavier. It's noisier. Pure punishment. Musical masochism. Straight up no daylight chained to a cold, concrete, blood-stained floor…" — The Needle Drop
"…a double dose of their debut Scorn — McCarthy's tone is still that high-end Ballou-style (from Dave Otero) production that shows the frayed ends of sanity and his roar has never sounded deeper or angrier." — Decibel
"There is no other way to convey the realization of the vile nature of existence without tempos this slow, and of riffs so massively distorted, grotesque, and just fucking doused in nauseating hatred as these are…" — Cvlt Nation
"…some of the heaviest, grinding, industrial-charged sludge you're likely to suffer through." — Team Rock
 "…an overwhelming masterwork of unbridled extremity." — The Obelisk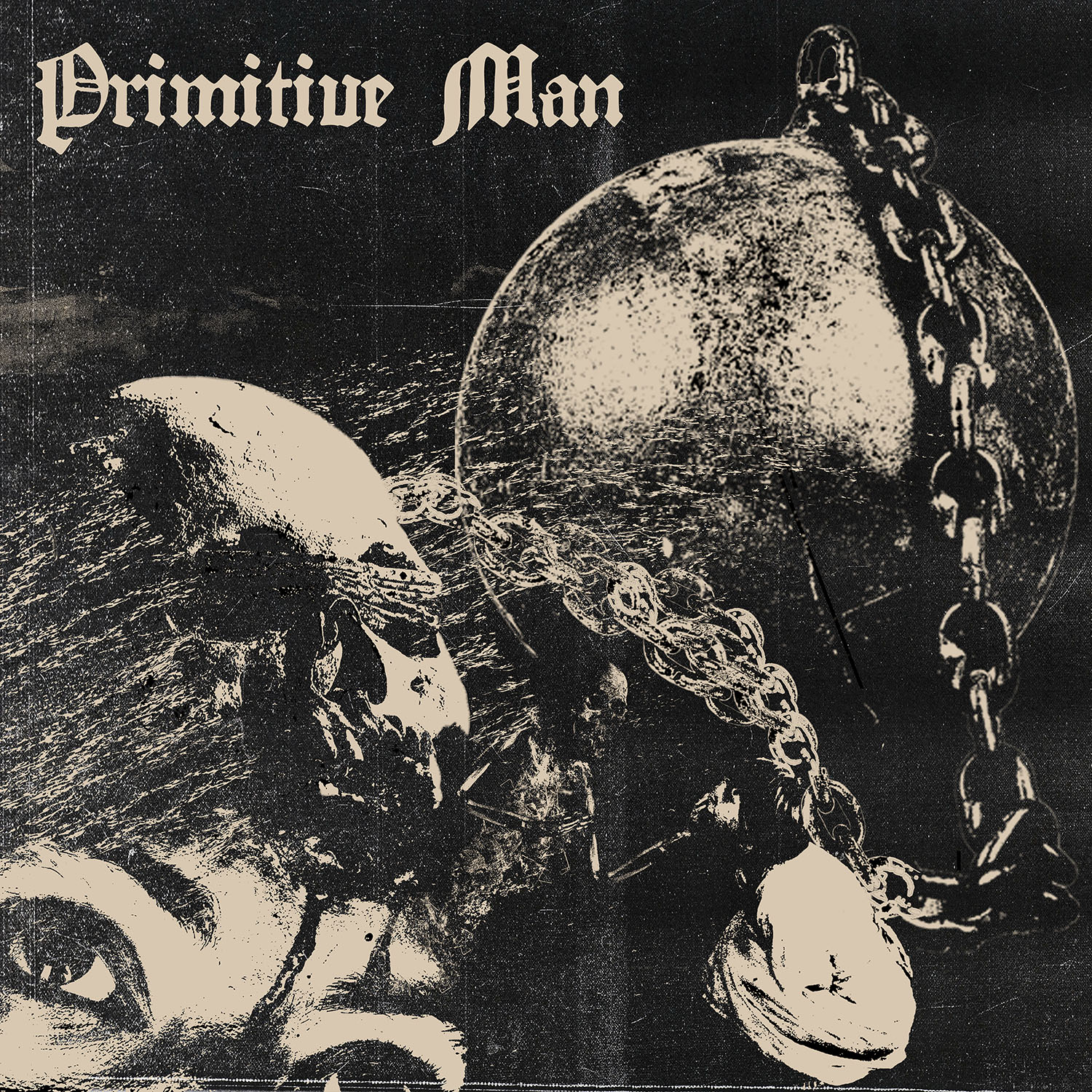 http://www.primitivemandoom.com
http://www.facebook.com/primitivemandoom
http://www.relapse.com
http://www.relapserecords.bandcamp.com
http://www.facebook.com/RelapseRecords
http://www.twitter.com/RelapseRecords