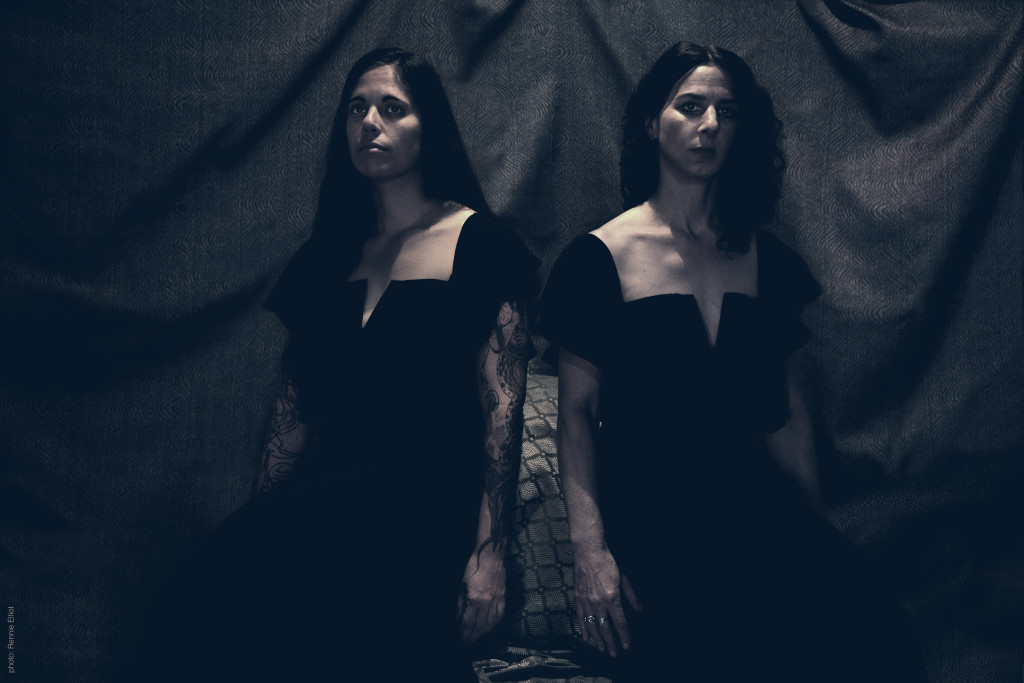 Stream / Share INSECT ARK's "Sea Harps" at THIS LOCATION.
"…two women's combined agonies trapped amber-like, examined through prisms both fantastical and frightful." — Revolver
Marrow Hymns is the impending new full-length from New York City/Portland-based instrumental duo INSECT ARK. Set for release on Profound Lore Records February 23rd, the curious pair seamlessly fuse elements of horror-film soundtracks, psychedelic doom, and atmospheric noise into something otherworldly.
Comprised of Dana Schechter (M. Gira's Angels Of Light, Wrekmeister Harmonies, Zeal & Ardor, Gnaw) and Ashley Spungin (Taurus, Purple Rhinestone Eagle, Negative Queen), INSECT ARK's intensely visual music weaves interludes of fragile beauty with crushing passages of swirling doom, spinning like a backwards fever dream.
In advance of the record's release, today Revolver Magazine offers up "Sea Harps" for communal feasting, the esteemed mag issuing of the offering: "The record finds Schechter and Spungin taking cues from horror-movie soundtracks, leaden psych-rock, ambient noise, EBM, and above all, its creators' existential crises, all blown up for maximum atmospheric impact. Consider the crushing, eerie, 'Sea Harps,' a stormy new track we're premiering today, a facsimile for what to expect from the upcoming effort: two women's combined agonies trapped amber-like, examined through prisms both fantastical and frightful."
Adds Schechter, "'Sea Harps,' a favorite in our live sets, is loosely based on the Greek myth of the Sirens. Broadcasting an ominous and lonely call into the night, the Sirens' song was irresistible to all who heard it, luring sailors to an untimely and violent death."
Hear "Sea Harps" courtesy of Revolver Magazine at THIS LOCATION.
And if you missed it, sample "In the Nest" below:

Marrow Hymns will be available on CD, vinyl, and digital formats. Preorders will be announced soon.
INSECT ARK will bring their psalms to the stage in the coming weeks. Performances will include a special record release show as well as a European trek this spring. Stay tuned for details.
Marrow Hymns is a wordless song, a hypnotic voice that screams and whispers from a place deep in the furrows, from the bones, from the blood. Defying easy categorization, INSECT ARK's uncommon sound is in part the amalgamation of these two women's passions: Schechter's sinister bass lines and unconventional use of lap steel guitar (and her complete omission of electric guitar), and Spungin's lucid, exacting drumming and synth work with her own hand-built analog noise pedals (Ormus Electronics).
Schechter describes INSECT ARK as being a voice when words fail to articulate emotions or experiences, a visceral form of communication through sonic submersion. The cathartic nature of the music INSECT ARK creates is a document of life's many complex facets – perseverance and presence, chaos and meditation, birth and decay, brutality and delicacy, and of hope in the unknown.
Marrow Hymns was recorded and mixed with engineer Ethan Donaldson at Mozart Street Studios in Brooklyn, New York over the course of eighteen months. With the two halves of INSECT ARK residing on opposite coasts, the album was largely skeletal in form upon commencement of recording. Overdubs and further writing/arrangements were done after Spungin's return to Portland in the isolation of Schechter's home studio. The sense of distance and vast emptiness remained intact in the songs, built out over many long nights. Marrow Hymns' song themes of displacement, loss, and isolation are personal journals of that time period, as both members found themselves simultaneously experiencing existential crises. However, the album also tells a story of strength and determination, made from the marrow of these two women, a song for all things that struggle to survive.
Formed in 2011 by Schechter as a solo project, from its inception INSECT ARK has been about creating work that transports, both physically and psychologically. Spungin joined in 2015 for touring support of Portal/Well, and over the next year, INSECT ARK became something much greater than the sum of its parts. Both women have roots firmly in making work with no borders – they are DIY makers, multi-instrumentalists, gearheads, and visual artists. Spungin studies live sound, studio recording, programming, and analog electronics; Schechter composes music for film and is a video maker/animator for film/TV. A full-length video counterpart for live shows is to come shortly, integrating sound and visuals to build immersive sonic landscapes that echo in the empty spaces where the earth divides, offering the listener – and the band themselves – utter sensory submersion.
http://www.insectark.com
http://www.facebook.com/InsectArk
http://www.insectark.bandcamp.com
http://www.profoundlorerecords.com
http://www.facebook.com/profoundlorerecords
http://www.profoundlorerecords.bandcamp.com