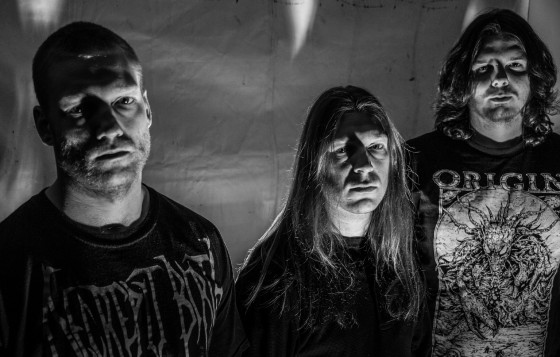 Ruins is the convulsing new long player from death metal trio, UNBREAKABLE HATRED. Set for release next month via Unique Leader Records, the eight-track bruiser from the Quebec City-based tech terrorists was captured by Chris Donaldson at The Grid Studios (Cryptopsy, Despised Icon, Neuraxis etc.) and is violent, precise and unapologeticly rabid. "The riffs are friggin' neck breakers. I can't imagine my fellow lovers of death metal won't dig this," said MetalSucks upon their initial investigation of the title track and first single. "Are you ready to have your spine ripped out through your throat?," added Yell Magazine, "Because that's exactly how you'll feel after listening to the technical death metal intensity of UNBREAKABLE HATRED."
In anticipation of its impending detonation, and commended for their "technical wizardry meets OSDM rage," today Decibel Magazine vomits forth the visual accompaniment of second kill hymn off UNBREAKABLE HATRED's Ruins with "Dysfunctional System." The slick, black and white clip was filmed by Alex-Deleon Cativo, the band issuing of the track, "The concept of the song is about a murderer who killed his two children and was released a few months later. The band denounces the fact that we have a corrupted justice system."
View "Dysfunctional System," now playing at Decibel, at THIS LOCATION.

And don't forget to sample the audio obliteration of "Ruins," still streaming at No Clean Singing HERE.
UNBREAKABLE HATRED was forged by guitarist Philippe Drouin, his drummer brother Dominic and vocalist/bassist Simon B. Lapointe. Manifesting a mutinous amalgam of old-school death metal brutality, modern technical wizardry and blistering groove, over the course of seven years, one previous full-length and a gaggle of touring, UNBREAKABLE HATRED's relentlessly visceral sound expeditions and DIY drive has reaped the respect and adulation from some of extreme metal's most esteemed figureheads. Suffocation's Terrance Hobbs calls UNBREAKABLE HATRED, "one of Canada's premier death metal acts," adding, "this trio of power lays waste to the listeners ear drums on every level and then some!" "UNBREAKABLE HATRED blew us away each night with their energy and ripping songs," championed Misery Index's Jason Netherton, "it was a total pleasure to have them on our tour… Ferocious!" Cryptopsy's Flo Mounier concurs, "UNBREAKABLE HATRED are definitely one of the new bands out there to be recognized! Once again proving that Quebec musicians are on top of their game!"
UNBREAKABLE HATRED will release Ruins via Unique Leader Records on August 21st, 2015. Preorder your copy today at THIS LOCATION.
http://www.facebook.com/UnbreakableHatredOfficial
http://www.uniqueleader.com
http://www.facebook.com/uniqueleaderrecords