[photo by Travis Heacock]
Noisey is now streaming the entire mighty Absolution, the debut LP from Denver-based doom metal quartet, KHEMMIS, as the band prepares for its release via 20 Buck Spin next Tuesday, and announces their upcoming August West Coast tour dates.
Due to their seamless merging of clean and caustic doom metal elements into a cathartic and unforgettable manifestation, the release of Absolution sees KHEMMIS appropriately joining the likes of Samothrace, Graves At Sea, Pallbearer, Yob, Mournful Congregation, Lycus, Atlantean Kodex and other doom heavyweights on the 20 Buck Spin roster. With more than forty-one minutes of top-tier doom metal, Absolution sees the band delivering an immaculately captured and utterly entrancing album produced by Dave Otero at Flatline Audio (Cobalt, Nightbringer, Cephalic Carnage). Vice Magazine's music channel, Noisey, is now playing the entire LP more than a week before its official street date, offering, "Denver quartet KHEMMIS' new album is really interesting. It's an unexpected and near-perfect blend of sludgy stoner rock, traditional doom, heavy metal, and 70s hard rock, one that nods to Pallbearer as often as it bows to Thin Lizzy. It's a logical move—doom metal as a genre has undergone a significant amount of changes since its ancestor first flowed forth from Tony Iommi's fingertips, often for the better (or at least, the more interesting). That evolution has borne deliciously diseased hybrid fruit like sludge, drone, funeral doom, and so on, while exciting developments continue to thrill the fans of more traditional sounds and the old classics abide."
Stream KHEMMIS' entire Absolution via Noisey now at THIS LOCATION.
Orders for Absolution on CD can be placed now via 20 Buck Spin HERE. The record will see digital release and full distribution on Tuesday, July 7th, and a 12" vinyl version coming in August.
KHEMMIS has also announced the routing for their upcoming August Western US tour in support of Absolution. Following their hometown record release show in Denver for the album on August 1st, the band will tour from August 6th through 15th, with shows in Seattle, Olympia, Portland, Eugene, Sacramento, Oakland, San Jose, Los Osos, Los Angeles and Tempe confirmed, set to share the state with a host of great acts, including supporting Atriarch, Vattnet Vistakr and The Atlas Moth on the final two dates in Los Angeles and Tempe.
KHEMMIS Live:
8/01/2015 Hi-Dive – Denver, CO * Absolution release show w/ Call Of The Void, Of Feather and Bone [info]
8/06/2015 Highline – Seattle, WA w/ Satanarchist, Brainscraper
8/07/2015 McCoy's – Olympia, WA w/ Infinite Flux
8/08/2015 High Water Mark – Portland, OR w/ Druden, Satanarchist
8/09/2015 The Wandering Goat – Eugene, OR
8/10/2015 Café Colonial – Sacramento, CA
8/11/2015 Golden Bull Bar – Oakland, CA w/ Bog Oak
8/12/2015 San Jose Rock Shop – San Jose, CA
8/13/2015 TBA – Los Osos, CA
8/14/2015 Complex – Los Angeles, CA w/ The Atlas Moth, Vattnet Viskar, Atriarch
[info]
8/15/2015 Yucca Tap Room – Tempe, AZ w/ The Atlas Moth, Vattnet Viskar, Atriarch [info]
In advance of Absolution, press on the LP has been receiving accolades from major media outlets including Decibel Magazine, offering in part, "While most bands hauling this much tradditude avoid getting too aggressive—and bellowers at the other end of the spectrum tend to get bogged down in monotony—the Khemmis vocal approach plays each style off the other to grand effect… With Absolution, Khemmis have blazed a filler-free, consistently enjoyable debut." No Clean Singing's feature on the band included, "KHEMMIS shake the earth with pavement-cracking riffs and cannon-blast drum blows. They stomp like brontosaurs and rumble like boulders, while sending out tendrils of lead guitar melody that coil around your neck like hungry pythons. And the vocals — the principal vocals soar up high, clean and pure, while the instrumental music is busy down below in the excavation zone, pulverizing foundations of large buildings and reducing them to rubble. And in tandem with those excellent clean vocals, the band mix in abraded, growling tirades that leave scars in their wake…" The Obelisk came in early, offering in part, "one can hear that Absolution is a work geared more toward uniting styles to find something new from them rather than contrasting them, digging back to the theatrical death-doom roots of more modern doom à la Pallbearer and bringing in atmospheres that feel born out of classic Paradise Lost and Novembers Doom to add a shot of adrenaline and extra push where and when they feel it's called for. The balance they strike and the fluidity they're able to conjure are two of Absolution's most impressive aspects…"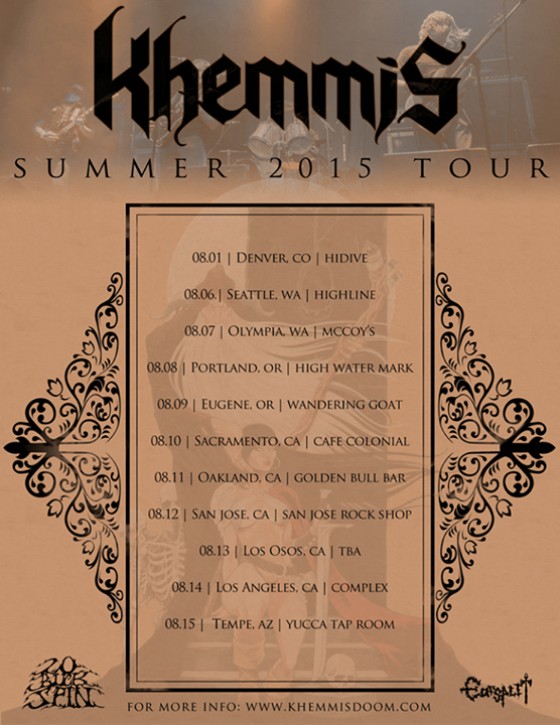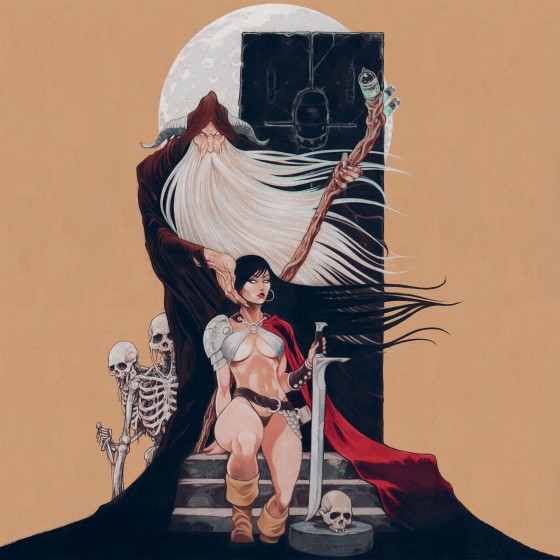 http://www.facebook.com/khemmisdoom
http://khemmis.bandcamp.com
http://twitter.com/khemmisdoom
http://www.20buckspin.com
http://www.facebook.com/20buckspin
http://twitter.com/20buckspinlabel