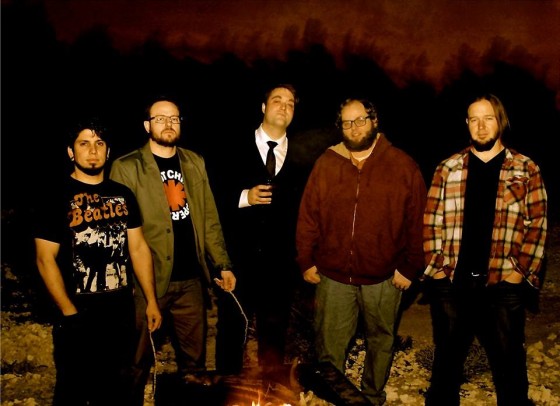 Gizzards & Hearts, the driving and diverse debut album from Las Vegas-based ONE TON PROJECT, is out this week through Battleground Records, as the entire album is made available for streaming.
The Vegas roll groove crew, ONE TON PROJECT, introduces the planet to their eclectic and energetic homemade brew of rock through the extravaganza of their Gizzards & Hearts debut LP, the album self-produced over the course of several years in the instrument crowded warren of the band's own studio. Delivering nearly fifty minutes of smooth but sweltering boogie breaks and soulful elements, enigmatic storytelling plays out through a churning, modern blend of rocked-out jams made for the stage. Inducing party time ambiance and the through their varied output, traditional rock structures and soulful vocal patterns meld into the pulsing rhythms of reggae, jazz breaks, the sharp timbre of Eastern scales, culminating into catchy hooks which clash with progressive post-rock soundscapes and bluesy phrases.
Officially out tomorrow, ONE TON PROJECT's twelve-track Gizzards & Hearts is now playing in its entirety at THIS LOCATION.
PureGrainAudio has just published a gear feature with ONE TON PROJECT guitarist Joe Munoz on the band's sound on Gizzards & Hearts which can be viewed RIGHT HERE.
The 6-panel digipak CD of Gizzards & Hearts is available HERE and the limited 180-gram clear LP version HERE; digital copies can be ordered now right HERE, and as of tomorrow it will be listed through iTunes, Amazon MP3, Spotify, Google Music Store and all relevant digital platforms.
ONE TON PROJECT's record release show for Gizzards & Hearts is booked to take place in downtown Vegas on June 19th alongside their cohorts in The Solid Suns and Dinner Music For The Gods. Stand by for additional upcoming performances to be announced in the coming weeks.
ONE TON PROJECT Record Release Show:
6/19/2015 Backstage Bar and Billiards – Las Vegas, NV w/ The Solid Suns, Dinner Music For The Gods [info]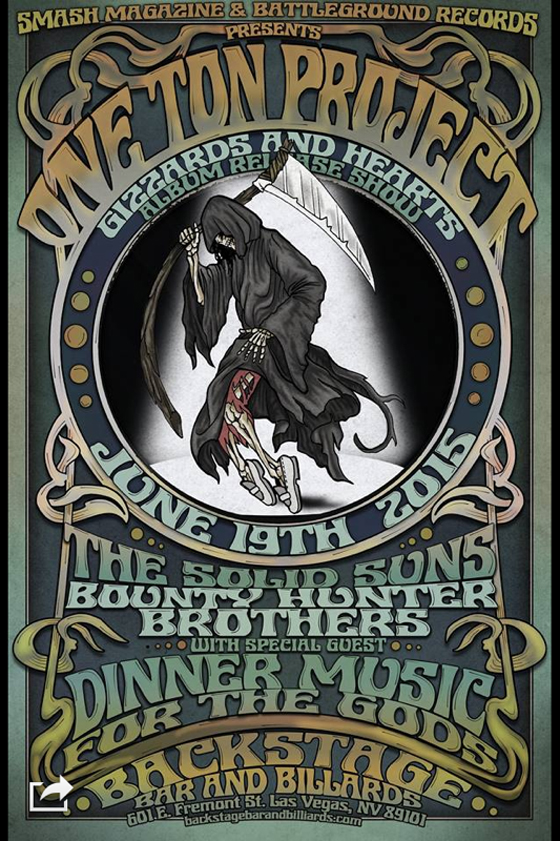 http://www.facebook.com/onetonproject
http://onetonproject.com
http://onetonproject.bigcartel.com
http://www.facebook.com/battlegroundrecords
http://battlegroundrecords.bigcartel.com
http://twitter.com/battlegroundrnr