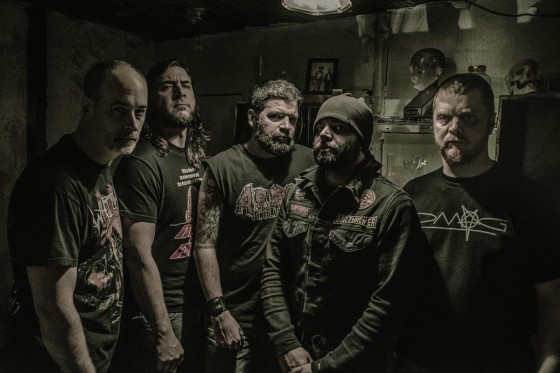 [photo by Shaun MacMahon]
Following the aftermath of their "Serpenticide" track premiere, which left the masses deaf, gored but feigning for more, today reactivated New York death metal sickos, SKINLESS, further traumatize the metal hordes with the visual accompaniment to their namesake track, "Skinless."
The latest skull-crusher comes by way of the band's imminent new full-length, the fittingly-titled Only The Ruthless Remain. Featuring their classic late '90s lineup of founding guitarist Noah Carpenter, vocalist Sherwood Webber, bassist Joe Keyser and drummer Bob Beaulac, with the recent addition of second guitarist, Dave Matthews, the record was captured by Tom Case at Edie Road Studio and Doomsday Bunker Studio, both in upstate New York, with vocals tracked by Dave Otero (Cephalic Carnage, Primitive Man etc.) at Flatline Audio in Denver, Colorado, and the entire slab of audio violence mastered by Brad Boatright (Obituary, Nails, Integrity etc.) at Audiosiege in Portland, Oregon.
The sadistic, seven-minute "Skinless" clip begins innocently enough before surging throat first into a horrific world of lethal injections, human flaying and general group-inflicted suffering as part of "some sort of Satanic cult ritual." A delightful exercise in SKINLESS' signature brand of butchering riffs and surgical precision, "Skinless" is punishing both sonically and visually.
Elaborates Webber, "The 'Skinless' video chronicles the sordid obsession of our accomplice, the Hudson Skinner. Captured by an equally ruthless Jim Brassard and his team, have a look into the sickened world of the Hudson Skinner set to song by your fiends in SKINLESS."
Adds Bloody Disgusting, who premiered the video trailer last week, "The video, which is incredibly NSFW for torture and gore, shows a man being slowly murdered by the band as well as a 'doctor,' who could easily have come from Rob Zombie's House Of 1,000 Corpses. If you have issues with being skinned, avoid this video at all costs."
Get down with your torture tactics, courtesy of Bloody Disgusting, at THIS LOCATION.
You can also sample "Serpenticide," still soiling the airwaves via SoundCloud HERE and YouTube HERE.
SKINLESS will bring their odes of revulsion to Baltimore this May as part of this year's Maryland Deathfest as well as Hellfest in France this June with further live devastation to be announced in the coming weeks. Stand by.
SKINLESS:
5/21/2015 Maryland Deathfest @ Soundstage – Baltimore, MD
6/20/2015 Hellfest Open Air – Clisson, FR
Spawned in 1992 by guitarist Noah Carpenter with the sole purpose of being the heaviest band ever, SKINLESS established a solid, dedicated lineup from 1997-2001 in the form of Carpenter, vocalist Sherwood Webber, bassist Joe Keyser and drummer Bob Beaulac. This version of the band would later become known as the "classic" lineup. By 1998, the band released their now-iconic Progression Towards Evil debut. Showcasing the visceral onstage energy the band had become notorious for, the independently-released offering reaped the adoration of fans and critics globally and remains a cornerstone release in the annals of death metal. A union with Relapse Records ensued and from 2001-2006 three more bludgeoning platters were served with Foreshadowing Our Demise, From Sacrifice To Survival, and Trample The Weak, Hurdle The Dead. Despite various lineup shifts, the band remained as brutal and busy as ever, touring the globe with the likes of Slayer, Pantera, Slipknot, Exodus, Morbid Angel, Dying Fetus, Suffocation, Immolation, Misery Index, Deicide, Cannibal Corpse, Entombed and so many others consequently spawning an ever expanding horde of devout metal enthusiasts. Following a lengthy hiatus, SKINLESS returned to action with their "classic" formation in 2013.
Only The Ruthless Remain includes artwork by Ken Sarafin and will be unleashed on CD, LP and digitally via Relapse Records on June 2nd, 2015 in North America (June 1st in the UK/EU and May 29th in DE/Benelux/Finland). Limited Relapse 25 Year Anniversary editions of the CD and LP will also be available. For preorder bundles, visit THIS LOCATION. Desirers of the digitals, go HERE.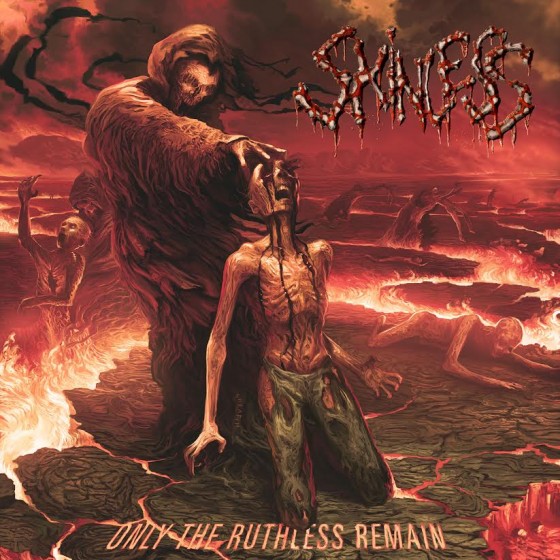 http://www.facebook.com/Skinless
http://www.twitter.com/skinlessband
http://www.skinless.bandcamp.com
http://www.relapse.com
http://www.facebook.com/RelapseRecords