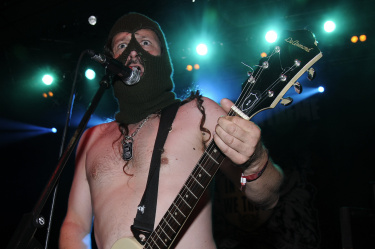 Selfmadegod Records is proud to announce the upcoming release of This is Not a Threat, It's a Promise, the new album from Belgian cult grind "mince core" band AGATHOCLES.
The 27-song album was recorded at Soundshape Studios in Belgium, where the band has recorded most of their releases to date, such as the classics Razor Sharp Daggers, Grind Is Protest and Black Clouds Determinate.
AGATHOCLES frontman Jan AG comments, "This album contains all elements which AG uses to create their brand of mince core. Going from raw punk to d-beat to old-school straightforward grind, backed up with three different vocal styles. This time the lyrics deal with topics like losing your job and waiting for the repo man, scenesters, elections, the worldwide economic crisis, modern technology and the rise of Big Brother, and more. Get ready for another old-school, raw, mince core blast!"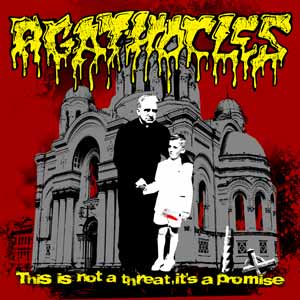 This is Not a Threat, It's a Promise track listing:
1. Black Tea
2. Houses Of Fraud
3. Straight Lane
4. Bits And Chips
5. Reduce The Pain, Refuse The Gain
6. People's Property
7. Gaszilla
8. Soap And Joke
9. Hyvää Paivää
10. Financial Cris-Ass
11. Motherfucker (Swing That Axe)
12. Go With A Blow
13. Monkey Business
14. Troops Of Rhumania
15. Cut Off
16. God Save The Real Green Crocodile
17. Fangs Feasting On Funds
18. Cleptocracy
19. De Kiezer Heeft Nooit Gelijk
20. Aside
21. Ulkopuolinen
22. Stuck@Dumb.Com
23. More Patches Than Brains
24. Gallows Eve
25. After The Battle
26. Will Gone, Lobotomy Done
27. Manipulotiek
This is Not a Threat, It's a Promise is set for release in mid October 2010. Music will be available to North American outlets this week, and interrogations with the band will be transpiring directly afterward. Please contact Earsplit to take part in the activities.

http://www.agathocles.com
http://www.selfmadegod.com
http://www.myspace.com/selfmadegodrecords